February 18, 2020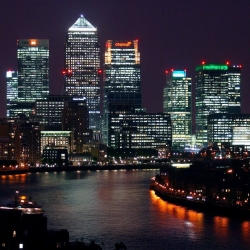 Rents for new, Grade A office space are likely to rise in many parts of London this year, a property consultancy has predicted. According to Carter Jonas, rents for prime located, new, mid-rise, Grade A space above 5,000 sq ft will typically increase by £1.50 – £2.50 per sq ft per annum by the last quarter of 2020 across most of the London office sub-markets. The forecast increases are being underpinned by continued low vacancy rates and unexpectedly strong demand as business confidence increases following the general election.
The 2020 rent forecast makes several key predictions for the year ahead:
Highest rent increase most likely In Mayfair
Mayfair is likely to see some of the highest rent increases, with a forecast rise of 4.3 percent compared to the final quarter of 2019. It continues to hold the prize for the highest rental costs of any of the London office sub-markets – predicted to rise typically to £120 per sq ft per annum for prime space by the end of 2020.
Canary Wharf, Covent Garden, Wood Wharf and Stratford are also expected to see rent increases, albeit at lower levels than those forecast in core City and West End districts, reflecting less concentrated supply and demand pressures. By contrast, Hammersmith rents are forecast to remain flat for the year ahead.
Limited supply and growing demand
The pipeline supply of completed office developments reaching the market continues to be below trend. This is a consequence of the 2016 Brexit vote, which resulted in many developers halting their development proposals in the wake of the ensuing economic and political uncertainty.
Michael Pain, Head of Tenant Representation Team, Carter Jonas said: 'Low vacancy will underpin rental growth for new Grade A space across many parts of London during 2020 as the completion of new office developments fails to keep pace with stronger-than-anticipated demand. Occupier demand is likely to gather pace throughout the year in the wake of rising business confidence following the 2019 general election.
Continued 'flight to quality'
A key driver of demand for new Grade A space during 2020 will be the continued 'flight to quality', as employers increasingly use the quality of the work environment to bolster recruitment, retention and productivity strategies in a tight, competitive, labour market.
In the wake of the December election, and a striking majority for the Conservative Party, we are seeing increased business confidence in the capital.
Increasing trend to pre-completion leases
The trend towards tenants entering into leasing contracts on office space that is still under construction is likely to increase during 2020 – especially for space above 30,000 sq ft – as competition intensifies among occupiers to secure the best available space.
Commenting on the forecast, Dan Francis, Head of Research, Carter Jonas, said: 'In the wake of the December election, and a striking majority for the Conservative Party, we are seeing increased business confidence in the capital. Following three years of economic uncertainty, when developers reined back their exposure to speculative development, London office rent increases are being driven by historically low vacancy with demand outstripping supply for new Grade A space.
'However, the "Boris bounce" that we are beginning to witness in the market is fragile and much depends on the government managing to set out a clear and coherent position as we attempt to negotiate a trade deal with the EU by the end of the year.'
A separate report by Facilio Inc (registration required) has found that improving tenant experience is a priority for more than three-quarters of corporate real estate owners, who are allocating two-fifths of their operational spend to this issue. Maximising energy efficiency and dealing with rising maintenance costs are other key objectives, the report, which focuses on the US, Middle East and India, suggests.
Image by WikiImages