August 4, 2022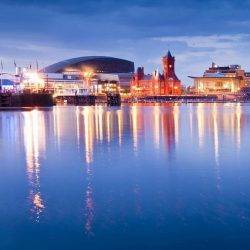 You can now attend scheduled Microsoft Teams meetings even if you don't understand the languages your fellow participants are speaking. The new solution, developed by Microsoft in partnership with the Welsh Government, allows designated interpreters to translate what is being said during a scheduled Teams meeting, and attendees can choose which language they want to listen to, in real-time. They are also able to switch between languages during the meeting.[Note-all stories on Workplace Insight can be translated automatically into numerous languages via the tab in the bottom right hand corner of your screen].
The feature is another addition to Teams' functionality. It will benefit public bodies and organisations that host scheduled meetings in different, sometimes multiple, languages, ensuring they are inclusive and attendees can understand what is being said.
The launch of live human translation between different languages on scheduled Teams calls has been welcomed by the Welsh Government. The Welsh Government's Chief Digital Officer, Glyn Jones, said the new Teams feature will be crucial for them. "I don't think you can underestimate the impact this will have on organisations that operate bilingually or multilingually," he said. "We've had really positive feedback from the people who've tested it with us. The interpreters and the people listening think it's great. Wales is bilingual. We speak Welsh and we speak English. This new functionality will help us use our Welsh more than we've been able to during COVID-19. I'm sure we'll see more people using Welsh in meetings than was ever the case before the pandemic — that's my ambition."
Prior to the COVID-19 pandemic, interpreters spent time and money travelling across Wales to attend meetings and interpret them for anyone in the room listening on headsets. When meetings moved online, some interpreters devised a workaround. They observed a Teams video meeting and provided simultaneous interpretation via a telephone line.
"It wasn't perfect but it got the job done," said Aled Jones, co-owner of translation company Cymen, which works with the Welsh Government, courts, councils and international conferences.
The new Teams feature will replace this workaround and ensure an easier and better experience for listeners. Aled Jones said the feature was "groundbreaking". "The whole purpose of an interpreter is just to be in the background, assisting the meeting," he said. "This feature will mean that the interpreting will happen without anyone drawing attention to the fact that there are interpreting services in the meeting. The meeting can run bilingually, smoothly and seamlessly. Everything is within the same app, so it's also very easy to use. People attending the meeting don't have to open another window, another tab or another device."
It also fulfils a duty that the Welsh Government has to provide meetings in English and Welsh.
"We meet with citizens, particularly when we're looking at a policy and need to consult with the public," Glyn Jones added. "Those events, quite rightly, have to be bilingual. But we don't do it because we have to do it, we do it because we want to. Wales is bilingual and meetings will be far better and more constructive if people can contribute in the language that they want to."
Glyn Jones also sees an extra benefit — helping to increase the use of Welsh. "The 2011 Census told us that more than 562,000 people in Wales were able to speak Welsh. The latest survey about Welsh language use also told us that over half of Welsh speakers speak the language daily." Teams will help contribute to this and the Welsh Government's target to reach one million Welsh speakers by 2050.
By enabling people to use Welsh and/or English in Teams scheduled meetings it will encourage more people to use Welsh in the workplace.
The Welsh Government rolled out Teams in early 2020, at the start of the COVID-19 pandemic, to enable flexible working among its staff. All day-to-day business and a range of training is now conducted through the platform using scheduled meetings, chats and channels. Some meeting rooms have also been fitted with Teams devices to allow greater collaboration between people in the office and those working remotely.
Nick Hedderman, Senior Director of the Modern Work Business Group at Microsoft, said: "Microsoft Teams brings people closer together, enabling them to communicate and collaborate while breaking down barriers around language and location. By empowering people to choose how they participate in calls and meetings, organisations can create a truly inclusive experience for everyone."