April 15, 2021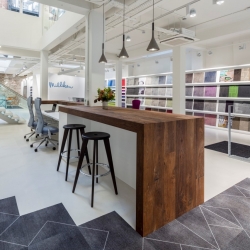 Flooring designer and manufacturer Milliken announced that it has been awarded WELL Certification at the Platinum level for its Clerkenwell Showroom by the International WELL Building Institute (IWBI). The prestigious distinction was awarded through IWBI's WELL v2 pilot, the next version of the WELL Building Standard. WELL is the premier building standard to focus on enhancing people's health and wellness through the buildings where we live, work and play.
Milliken's three storey showroom is a multi-functional space used as a gallery for showcasing flooring collections, sample storage and distribution, client meetings, hospitality and events, meeting space and as a flexible work and well-being hub for Milliken employees.
Created through seven years of rigorous research and development working with leading physicians, scientists, and industry professionals, the WELL Building Standard is a performance-based certification system that marries best practices in design and construction with evidence-based scientific research. Milliken's London Showroom at 5 Berry Street earned the distinction based on ten categories of building performance — Air, Water, Nourishment, Light, Movement, Thermal Comfort, Sound, Materials, Mind and Community — and achieved a Platinum level rating. Platinum is the highest of the three WELL certification levels achievable.
"We congratulate our friends at Milliken for achieving WELL Certified Platinum for their London showroom," said IWBI President and CEO Rachel Hodgdon. "It is our pleasure to celebrate Milliken's outstanding leadership with this latest achievement as the first UK project to be WELL Certified under WELL v2, and to do so at the highest level of certification. As an industry leader Milliken has underscored its commitment to advancing people first places and is inspiring others to support human health and well-being."
Alison Kitchingman, Milliken's Marketing and Design Director, commented: "We are extremely excited and proud that our stunning Clerkenwell showroom is the first showroom / retail space in the UK to be WELL Certified. To receive the highest level of certification – Platinum – is an amazing achievement and reflects our philosophy and commitment to well-being in all the spaces we help to create."
Some of the many features that helped Milliken's London showroom achieve Platinum status include:
Mind – Employee support and promotion for mental health since 2016
Movement – Movement network and circulation, free yoga classes and floor coverings to aid circulation and engagement
Materials – Declare and Cradle to Cradle – Silver Certification for flooring and Declare for desking
Sound – Background noise managed with cushion backed carpet, window units and HVAC with minimal noise pollution
Air – Installation of indoor air quality monitors
WELL is grounded in a body of evidence-based research that explores the connection between the buildings where we spend approximately 90 percent of our time, and the health and wellness impacts on the people inside these buildings. To be awarded WELL Certification by IWBI, Milliken's London showroom underwent rigorous testing and a final evaluation carried out by Green Business Certification Inc. (GBCI), which is the third-party certification body for WELL, to ensure it met all WELL Certified Platinum performance requirements.