August 31, 2022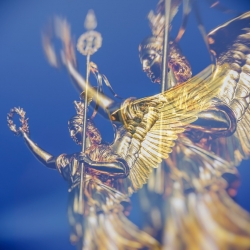 Mindspace is set to open its sixth Berlin flex office, by renovating a former department store in the heart of the city into a new space. Located at Münzstraße 12 / Max-Beer-Straße 2-4 in Berlin, near Alexanderplatz, the global flex office provider's newest location Mindspace Münzstraße is being built across 4,100 m² and will cover over 700 workstations spanning five floors. Scheduled to open in spring 2023, the building has been part of the WertInvest Group portfolio since 2014 and combines the best inner-city location with an architecture steeped in history.
"We are delighted to partner with Mindspace to refurbish the historic building near Hackescher Markt into a lively place where creativity can flourish. Mindspace appreciates the special nature of this property, and also shares our high standards of quality as well as our affinity for architecture and design," says Andrea Purkel of WertInvest.
At first glance, the former department store dating from 1913 appears almost sober and simple. Only upon closer inspection do the elaborate details on the windows and facade become apparent. Relief in the form of animals, plants and abstract ornaments, as well as stucco and statues adorn the building, which is considered an early example of reinforced concrete construction.
This built-in standard for quality and design will be reflected in the interior of the building as well, following a comprehensive remodeling, and is essentially anchored in the joint concept of Mindspace and WertInvest. As with all Mindspace locations, future members can look forward to the beautifully designed office space and all-inclusive service they have come to expect from the boutique flex office space provider. Completed with state-of-the-art technical equipment and a full-service package, the workplace experience will be redefined for companies of all sizes.
Further expansion in Berlin
According to a report by Colliers, a global leader in real estate services and investment management, Mindspace has announced more new locations in Berlin than any other provider since the beginning of Covid. This shows the market for flexible office solutions is booming, especially in the German capital.  Mindspace Münzstraße is already the company's third new location announcement in Berlin this year. Just this July, Mindspace opened its Zimmerstraße location where a number of well-known companies such as Semrush (NYSE: SEMR), Pernod Ricard (EPA: RI), Doktor.de, Siteminder and Mollie were the first to sign. The special services for Mindspace Zimmerstraße members include a gym with showers and changing rooms, a special Yoga and Pilates room, and the world's first official Mindspace Café in collaboration with 19grams, the coffee roasting company.
Mindspace Ku'damm, a new location on Kurfürstendamm, is also currently in the final stages of interior construction and will open this fall in the finalized part of the FÜRST. The location offers, among other things, an eleventh-floor roof terrace with a 360-degree panoramic view and a wealth of  amenities in a prime location with an attractive mix of retail, gastronomy, lifestyle and art.
"Globally, Germany is currently Mindspace's largest market with a total of twelve locations. We're also looking for other locations to expand our global footprint. As we are growing, we are currently hiring for over 20 positions in Germany," explains Lehmann.