August 25, 2022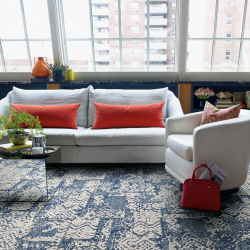 Interface, Inc. a worldwide commercial flooring company and global leader in sustainability, unveils its new collection of modular carpet, nora® rubber floor and LVT exclusively crafted to support the emerging resimercial trend. The trend, named for its fusion of residential and commercial aesthetics, provides designers with an extended palette combining home styling with durability and the functional demands of a commercial setting. It aims to support wellbeing and encourage creativity and collaboration by introducing home comforts into the workplace.
Lisa Ward, Product Marketing Manager, UKIME, said: "Architects and designers are increasingly being tasked with creating spaces that put the wellbeing of building users first and encourage them to reconnect and collaborate as they return to shared workspaces. This is where the resimercial trend, and our tailormade collection, can help. We know from experience that having an inspiring flooring design can define a space, help boost employee morale and contribute towards improved creativity. With our latest collection, all of this can be achieved while having a positive impact on the environment."
The Resimercial Collection
 Crafted by the Interface Design Studio, this distinctive collection is made up of 21 new carpet tile options complementing both LVT and nora rubber floor to provide a portfolio of joyful, seamless, and interchangeable solutions to fulfil any design vision.
The 21 modular carpet tile styles work seamlessly alongside three LVT collections (Iridescence, Level Set® and Look Both Ways®) to provide infinite design options for spaces including receptions, desk areas, meeting rooms and social zones. For kitchens and stairwells, norament® 926, noraplan® linee™ and noraplan® unita rubber flooring options effortlessly sit alongside the LVT and carpet tile to provide low maintenance solutions that suit nearly every space throughout.
Together, the resimercial collection presents six inspirational avenues:
Design a calming, relaxing space with patterns inspired by the neutral palettes Serene and Pure.
Be at one with nature by embracing the Earth inspired palette, or add a touch of mystery by using the darker, richer tones of Allure.
Or go bold with the brighter, more adventurous palettes Opulence and Vibrance to create a dynamic and uplifting environment.
"This collection is inspired by the desire to celebrate unique and diverse workspaces," said Mandy Leeming, Design Director, EAAA. "Our team of designers explored culture and heritage, intertwined with warm textures and colours to build a collection that represents the needs of today's workforce. The customisable flooring portfolio provides designers with the flexibility they need to craft the right space for their client."
When customers specify flooring products from Interface, including the Resimercial collection, they are selecting carpet tile, LVT and nora® rubber that is 100 per cent carbon neutral throughout the full product lifecycle.
For more information, about the Resimercial Collection and to order a sample, click here.