August 26, 2022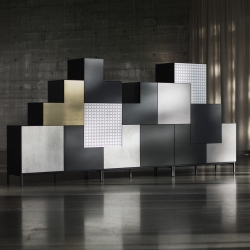 Material Matters 2022 is a new fixture on the London design calendar. Based on the critically acclaimed podcast of the same name, the event will see its inaugural edition take place during this year's London Design Festival, from 22-25 September on the capital's Southbank. The event, which is part of the Bankside Design District, promises to bring together over 40 world-leading brands, designers, makers and organisations to celebrate the importance of materials and their ability to shape our lives.
The fair will take place across five floors of the iconic Bargehouse at Oxo Tower Wharf, an unadorned but magnificent former factory setting, and feature a wide range of exhibits: from an exhibition celebrating an upcoming monograph on the experience-driven strategic design agency LAYER, to a site-specific installation from leading gallery Ruup & Form, featuring work from textile artist Beatrice Mayfield and other multidisciplinary artists, via displays by innovators and experimentalists whose practice is at the cutting edge of materials, and products from a collection of leading brands.
Material Matters 2022 promises to contain a slew of fascinating themes and features. The show will be teeming with designers, makers and manufacturers that explore the value of materials – particularly waste and our need for circularity. It's all about giving materials a new lease of life.
Circularity
Floor four includes Smile Plastics, for instance, which creates sustainable materials from 'waste' plastics collected from a variety of post-consumer and post-industrial sources. Meanwhile, Alkesh Parmar will be launching a new range of lighting pieces made from carefully sewn orange peel, and recent Royal College of Art graduate, B.C. Joshua, will show a furniture collection made from recycled newspaper pulp, entitled Similar Differences.
Netherlands-based start-up, Circuform, gives industrially designed furniture a circular life. Its latest chair, Rex, was originally created by Ineke Hans in 2011 but the latest version is made of recycled PA6 from office chair components, fishing nets, carpets and industrial waste. Spared is a start-up by interior and product design practice, Volume Creative. It offers a creative service that turns waste into beautiful objects, furniture and surfaces – sparing it from landfill. It will be creating a series of sculptures for the fair made from a variety of waste, including plastics, food and masonry detritus.
SolidWool will bring its Hembury Chair, which has a seat made from a combination of Herdwick wool and bio-resin. The wool is a by-product of sheep farming once used by the UK carpet industry but which has fallen out of vogue recently. When mixed with the bio-resin it produces a beautiful composite – each chair, which comes with legs made from ash, contains the equivalent of one entire fleece.
At a different scale, on the fair's second 'learning' floor, Hydro will illustrate how it reuses aluminium from demolished building projects, food and drink containers, or even cars with a special area for CPD's aimed directly at architects and designers.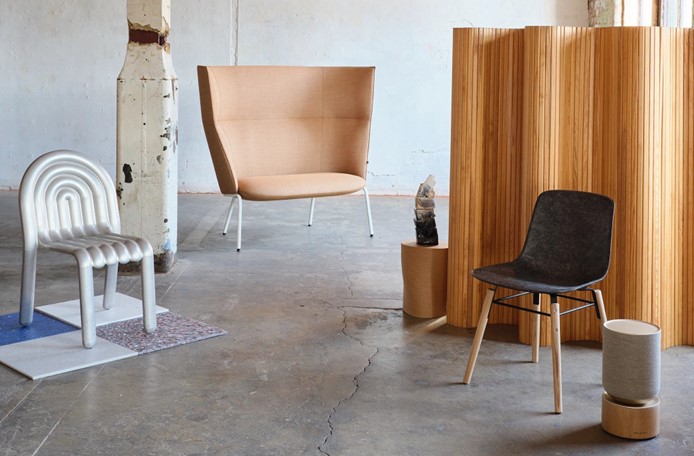 Scandinavian design
High quality design from Scandinavia will be hard to avoid at Material Matters 2022. The aforementioned Hydro has taken a large space on the second floor, while the third floor – devoted to products that have been produced with the utmost care and attention to detail – is dominated by two brands: Fora Form and Ragnars (main image, top).
Norwegian-based brand, Fora Form, specialises in creating spaces where people gather – such as meeting rooms, dining areas, auditoriums, and break out spaces. The manufacturer will be showing of products including: the Atrium Chair and Senso Frame, both designed by Anderssen & Voll. The former is a demure chair for contract environments, with a wide range of options and finishes, while the latter is a sofa system that can be configured in a number of ways and has been created to enable interaction.
Ragnars, a Swedish brand renowned for the craftsmanship that lies behind its pieces, will be showcasing its range of storage products and height-adjustable desks. It is also taking an interest in biophilic design, integrating nature into its collection. The cabinet series, Frames, is built with a solid wood skeleton, with doors made in organic materials that bring the fragrance of alpine hay and flowers. R5 Nxt is a series of electric height-adjustable desks where many of the steel parts have been replaced by solid wood, except for one of the table tops that is made from textile waste.
A sense of craft
Craft is another thread that runs through the fair. Joining Fora Form and Ragnars on the third floor, for example, is Modet. The Irish company, founded by award-winning master craftsman Paul O'Brien in 2017, will be launching the Langford collection in the UK. The range of exquisitely-made furniture includes a dining chair, dining table, console table and bench that have been hand-carved from solid oak and contain hints of classic Scandinavian design.
Some artists are using Material Matters 2022 as a reason to experiment
Elsewhere, Mixed Metals is a collaboration between two of the nation's leading metal artists, Juliette Bigley and Simone ten Hompel; Majeda Clarke is a brilliant weaver who works with artisans in Bangladesh and mills in North Wales; Helen Johannessen of HJ Keramikk and Kerry Hastings are leading ceramic artists; ROKOS specialises in beautiful glassware; and Xena Kalouti's work evokes the craftsmanship from her native Jordan.
Karen Henriksen has built an international reputation as a milliner but, more recently, has turned her attention to interiors under the guise of Studio KH. She will be launching a new range of sculptural pendant light shades and table lamps at the fair, made from sinamay (or banana fibre). Widely used in the millinery industry, sinamay is lightweight and translucent, and diffuses light beautifully. It is sustainably made in the Philippines, by independent weavers and small family co-operatives.
Some artists are using Material Matters 2022 as a reason to experiment. Candice Lau of Studio Candice Lau is an artist and maker known for her leatherwork. However, she has started using the material as a tool to work with clay. The results are wonderfully strange, animated humanoid ?gures. LIVING OBJECT is a joint venture between designer Philip Hughes and ceramic artist Vanessa Hogge – bringing together the former's love of tectonic forms, inspired by rugged geology and the latter's fascination with nature and flowers. Together the pair will be launching a sculptural ceramic light, the Contour Pendant, with a surface covered in Hogge's ceramic flowers.
Technology
The digital world isn't ignored at the fair either. OZRUH, founded by architect Levent Ozruh in 2019, creates intelligently designed objects at a variety of scales, fashioned using computational procedures and advanced manufacturing techniques. At the fair the practice will launch PRIMITIVES [2] made from 3D printed sand.
HagenHinderdael is a practice which works at the intersection of sustainable design and innovative technology to create sculptural products and immersive installations, fashioning pieces from waste taken from medical settings and sawdust. For Material Matters 2022, it has joined forces with digital fabrication specialist Fab.Pub to launch SWIVEL, a dual purpose stool and planter made of 3D printed fermented sugar, wood fibre and PLA bioplastic.
Features
In each year the fair will throw the spotlight on a single designer or practice. LAYER, founded by Benjamin Hubert, is 2022's design practice of the year. LAYER is an experience-driven, strategic design agency based in London that works with brands such as: Bang & Olufsen, Braun, Vitra, Samsung and Airbus to deliver award-winning, market-leading experiences and products for both the physical and digital worlds.
The practice's MONOGRAPH exhibition at Material Matters 2022 marks the launch of LAYER – a monograph on the studio and its founder, Benjamin Hubert, which has been published by Phaidon and written by Max Fraser. The installation will include new and past work, including the Emerge speaker for Bang & Olufsen, a new task chair for Andreu World, the Crop collection of outdoor seating for Allermuir, a collection of modular sofa systems for Prostoria, and a range of communication devices in collaboration with Deutsche Telekom Design. The exhibition is sponsored by some of LAYER's celebrated creative partners, including Allermuir, Prostoria, Andreu World, Allsteel, Moroso, Muuto, Never Go Alone, Viture, and Deutsche Telekom.
"We're delighted to be launching LAYER, our first monograph, published by Phaidon," says Benjamin Hubert. "A big part of our process at LAYER is centred around materiality and so being a part of the Material Matters 2022 fair at London Design Festival is a perfect ?t. Our exhibition, titled MONOGRAPH, showcases a cross-section of the studio's work, from tech and furniture to immersive installations, alongside our new publication."
Reclaim
Reclaim is a site-specific installation, located in the entrance of Bargehouse. Created by Ruup & Form, one of the UK's leading contemporary craft galleries, and artist Beatrice Mayfield, the piece is a collection of hanging textiles that take their inspiration from the building's layers of history – celebrating materials and techniques.
To create the panels Mayfield will be using Jogakbo, a traditional Korean textile patchwork technique that uses scraps of leftover fabric. The panels will be embellished with her signature embroidery, which uses beading and heavy textures on the surface.
The installation will also include work from other artists, chosen for their use of materials, on the panels.
META
The artist and designer Stuart Haygarth has been commissioned to make a piece as part of a series of works entitled META. The work will use a collection of existing vintage glass lamp shades to create a new chandelier. It promises to be spectacular.
Wood Awards
The Wood Awards will be unveiling its shortlist at gallery@oxo. The scheme, which was established in 1971 and is split into two main categories, Buildings and Furniture & Product, is the UK's premier competition for excellence in architecture and product design in wood. It recognises, encourages and promotes outstanding wood design, craftsmanship and installation.
The exhibition will be paired with a series of lunchtime talks.
Talks
Material Matters 2022 will contain a lively and informed talks programme. The fair has joined forces with Negroni Talks, the renowned (and robust) architecture talks series to create two special panel discussions. There will also be a live version of Material Matters with Grant Gibson. We're delighted that The Collective, which provides sustainable acoustic solutions for the workplace, will be our acoustic partner. More details will follow shortly.
Dates: 22-25 September 2022
Opening Hours: Thursday to Saturday 10am – 6pm, Sunday 11am – 4pm
Entry: Free with advance registration. Register online here
Address: Bargehouse, Oxo Tower Wharf, Bargehouse Street, South Bank, London SE1 9PH