August 26, 2022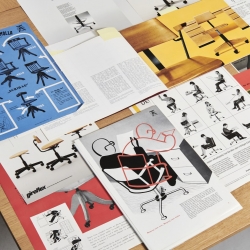 A seminar and exhibition at the upcoming Clerkenwell Open will explore the 150 year history of one of the most iconic and ground-breaking office furniture firms in the world – Giroflex. Now part of global furniture pioneer Flokk, the event gives people the chance to explore the historical context of the development of ergonomic seating as well as a chance to see current developments, including a first chance to see the firm's new G40 range, pictured below.
As with all Giroflex seating, the chair combines Swiss precision with a deceptively simple, intuitive design ideally suited to the needs of modern workplaces. The event takes place on the 7th and 8th September at the Flokk showroom in London. The seminar, led by Alys Bryan of Design Insider, will discuss the long history of this pioneering office furniture designer and consider how the market for seating will change in light of new ideas about work and workplaces. It takes place on the 7th September at 5.30. For more information contact jane.thomson@flokk com.
To RSVP to the seminar 150 years of innovation contact ukrsvp@flokk.com.
Also on display at Flokk will be a limited edition 150th anniversary chair by KNS, Giroflex and BIG GAME. This beautifully crafted wooden chair was made in an edition of just 150 – one for each year of the company's history. Fresh from Milan, two models will be available to see.
Flokk is a carefully curated house of brands providing a wide range of innovative furniture and acoustic solutions. With a shared belief in human centred design, each Flokk brand has its own unique identity, with their own stories to tell. Flokk was officially launched in 2017, but their story goes back nearly 150 years. As a house of brands, Flokk's history is found in the brands on which the company is built. With a combined heritage of over 400 years, the earliest of the Flokk brands to be established was Giroflex in 1872.