March 4, 2020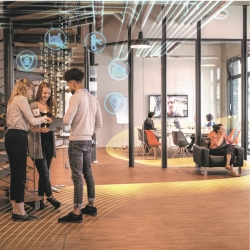 Siemens Smart Infrastructure has launched a smart building suite designed to create more efficient and flexible workplaces where people are at the core. The suite of IoT (Internet of Things) enabled devices, applications and services turn offices into a competitive advantage for companies.
Employees are empowered with greater choice and control in the workplace, including picking their own optimal temperature setting, pleasant lighting conditions and find available rooms for their spontaneous meetings.
The suite consists of complementary Siemens technologies and allows building management systems to respond intelligently to user input and environmental data. Now, workspaces can adapt to employees' needs with real-time analytics continuously learning from user input and picking up behavioral patterns. At the same time, powerful data analytics give insights into how the spaces are being used to make better decisions around space optimization and real estate portfolio management.
The future of smart work