June 25, 2019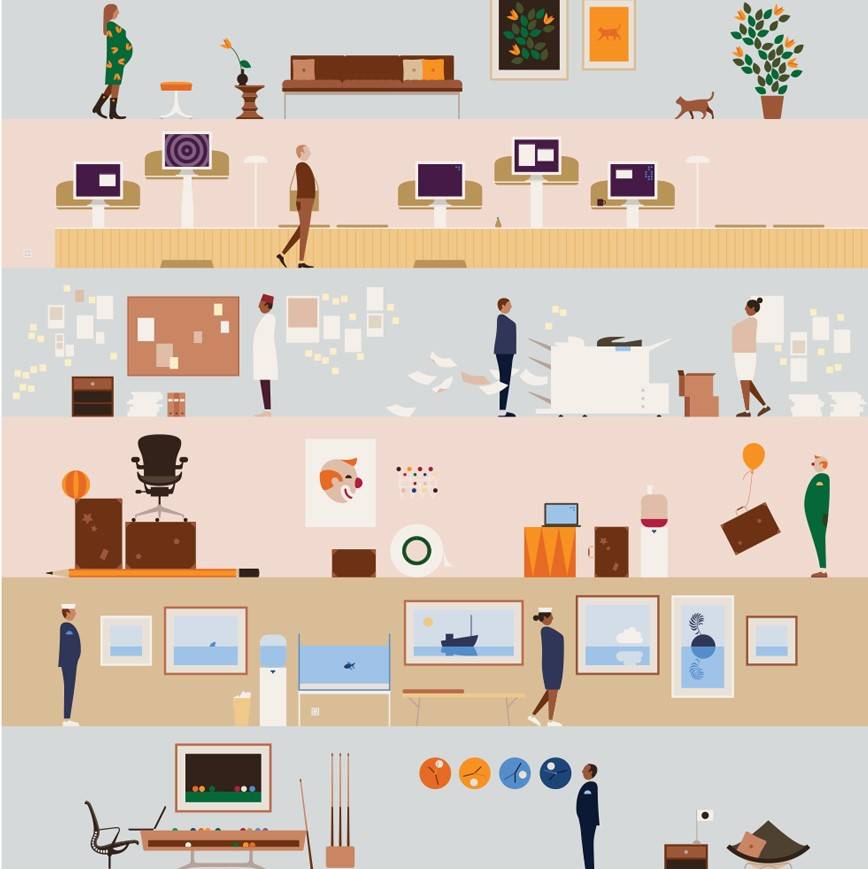 The development of products for the workplace follow many trends, generally aiming to provide that ideal setting for maximum effectiveness and fully tuned to the philosophies of the day.  The processes involved can occupy a good proportion of time and energy for the workplace specialist and office furniture maker and feature heavily in the media. But, behind all the product cacophony, there are activities, often unseen, that make more difference to what will become available in furnishing the workplace.
It has long been acknowledged that there are just too many providers of office furniture, all competing for a slice of the action and of course each having investments in design, development and procurement resources. The result, in many cases,  is low economies of scale, duplication in sales and marketing and perhaps the reason for a struggle to remain profitable or at least achieve a reasonable return. The top 100 European office furniture manufacturers make a 4.3 percent on sales and in the UK,  it is 4.1 percent for the Top 60 companies. Not bad you may think and certainly better than
It has long been acknowledged that there are just too many providers of office furniture
The commercial tide has though been changing and continues to develop – at least, for some.
The trend for collaboration among companies and acquisition, is creating opportunities to operate in quite different ways and in wider markets. Some of the facts make interesting reading. In Europe the top 25 office furniture manufacturing companies have a combined market share of 50 percent with sales of €4.5bn.
In that group there are two UK based business, Herman Miller (12th) and Senator international (13th). The Top 100 companies have a market share of 84 percent, with the top five companies being Kinnarps €418m, Steelcase SA €368m, Nowy Styl €331m, Vitra €315m and Royal Ahrend €299m. Although the size of a business (and the US continues to have the largest office furniture groups) is important to provide the financial muscle, there are many examples of collaboration right across large and small companies.
Acquisitive natures
The most interesting trend, which continues to develop is the growth of businesses as groups of companies, primarily through acquisitions.  The most noticeable has been the activities of Nowy Styl who recently have acquired the German company Kusch and Majencia in France. These additions once fully established in the Nowy Styl Group, will take their sales to around €470m, first place in Europe and getting close to that magical half billion landmark.
There are regular notices of collaborations to utilise distribution channels and providing existing clients with a wider range of products. Teknion have a partnership with Wilkhahn and Bene, Brunner with Haworth, Bisley with Moving Walls.
Other investments and acquisitions are moving with pace as well, Orangebox by Steelcase, Herman Miller investing in Naughtone and the UK Ocee International have achieved sales of almost £40m with acquisitions and growth. An interesting (what appears to be a first) is the acquisition of the Swiss Lista Office Group by the Chinese Henglin Chair Company.
So, what does this mean for those who occupy workplace setting and those who provide them? It is likely to be lots more quality products with a greater choice. A good deal for everyone and perhaps many more opportunities for what had become a fragmented industry, to find long term stability.
Image: Herman Miller Living Office
The FEMB (European Office Furniture Federation) was established in 1972 and promotes the development of the European industry. It has also introduced the comprehensive pan European sustainability programme Level®. For more information www.levelcertified.eu The FEMB Top 100 manufacturers report is published up to four times a year and details the sales performance of Europe's office furniture manufacturers. It is the most complete report of its type and is sourced from published company information and researched data received from the manufacturers. It was introduced in 2012 and has since that time grown in accuracy and importance for the office furniture industry in Europe.

Colin Watson is a business advisor and Secretary General of the European Office Furniture Federation (FEMB) secretary@femb.org