February 11, 2013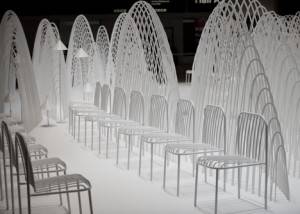 They say first impressions count so after landing in Stockholm it was a shame that mine veered towards a personal negative rather than a positive when I discovered that my hotel room interior was purer in design than a polar bear's coat. To a problem solving mind like mine, this didn't add up. Surely the cold climate would venture towards a more luxurious, cosy and comforting aesthetic. My second impression inevitably arrived courtesy of a local bar. I could have sworn I'd ordered a 40cl beer rather than the bottle of Bolly the bill suggested. So with those problems dismissed from my mind, it was heartening that the rest of the trip to the Stockholm Furniture and Light Fair was roundly positive.
The people of Stockholm, as anyone will tell you, are uniformly friendly and helpful. This always helps not only as you trudge the halls of the Fair on the outskirts of town, but helps the expensive beers go down easier during an evening's hard networking.
At the show I was instantly overwhelmed by the stunning Nendo 80 Sheets of Mountain installation, created using loops of cut modelboard. To my mind it had captured snow lined mountains, and icecaves routed in the history of Scandinavian culture. A sense of place always works wonders.
As always, some of the most impressive exhibitors were those routinely overlooked by the traditional media. I was seduced immediately by the Valoa range of lighting by Aurora. This is a very young company but with an admirably mature design outlook. The range is produced mainly from pressed felt and has a refined balanced aesthetic that would impress most contemporary masters.
Meanwhile Dencon showed a modish private seating booth with detailing on the internal upholstery very reminiscent of an onion skin. I mean that in a good way because not only does it lend itself to creating an interesting aesthetic in its own right, it makes a refreshing change from the linear approach to which we are accustomed.
Danish manufacturer Fredericia has great pedigree and proved it with a wide range of new designs. My personal favourite was a a well balanced innovatively proportioned meeting chair called Pato designed by Welling / Ludvik.
Luca Nichetto may hail from Venice but has obviously been taking advantage of his Stockholm offices with a clever lounge chair called Hai for One Nordic which incorporates a back that folds down to reduce its delivered size. He had several other products on show including the Linea bench sofa system for Offecct.
The Japanese manufacturer Nendo whose chief designer Oki Sato was responsible for the aforementioned mountain installation, weren't slacking in terms of product design either  and used the show to launch an intriguing plywood dining chair by the name of Cape, which showed a clear new design direction, a welcome escape from generic shapes that can often be seen on an international platform such as this.
Scandinavia has a well deserved reputation for pioneering furniture design in its own right and some of Europe's most successful companies hail from these shores. Accordingly the Swedish big guns were out in force. Kinnarps and Scandinavian Business Seating (who include brand names such as Hag and RH Chairs) attracted a great deal of footfall to their imposing stands. Kinnarps were presenting a number of new products including the Prim acoustic screen designed by Christian Halleröd. Meanwhile RH introduced their latest generation of task seating called Mereo.
My interest was captured by Dent a stacking chair with a crumpled sweet wrapper like shell for Bla Station. It conveys a sense of tradition even though it makes innovative use of modern plywood technology in the creation of its layer-glued compression-molded ash seat.
One company that has made a real name for itself in a short space of time and has helped to define a new part of the market is Buzzispace. The firm has been particularly dynamic in introducing a range of products very quickly to a global audience. Their interesting developments such as BuzziShade and BuzziMe are the latest to wow with their unique take on creating private office spaces and temporary working zones.
In my limited experience of Scandinavian culture and its embodiment in design, my personal favourite had to be Collage for Gemla by frontdesign. Its honest use of regional materials and craftsmanship became more than the sum of its parts to exemplify elegance and luxury.
Auditorium seating is often ignored when we talk about furniture design, but I was impressed with the way the simplistic design from Balzar Beskow had an appealing balance of colour and proportion.
In all, this was a great show, and a welcome new experience of a land I knew little of. It has to tread the line between domestic and commercial design and it was interesting to note that the contract halls showed more design panache than the domestic ones. So I look forward to visiting next year. Although I might budget for a bit more beer money next time.
______________________________________________
David Fox is an award winning British product designer based in Leeds. He has designed  products for companies both in the UK and overseas including Boss Design, Connection Seating and Naughtone. His website can be found here.