June 21, 2021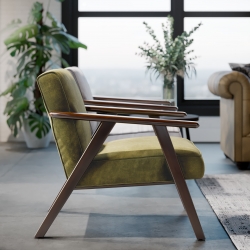 The Resimercial Collective by Connection is the perfect design to respond to the evolution of commercial interiors in the era of hybrid working. A cross pollination of materials and aesthetics, with the comfort of home styling and the durability and functional demands of a working environment. As the lines between distinct work functions in a space become more and more blurred, the Resimercial Collective is designed to blend areas together to create a harmonious environment that facilitates hi-performance and the wellbeing of employees.
The most recent addition to the Resimercial Collective by Connection is the Camden lounge chair. The hand-crafted solid oak frame alongside a plethora of fabric options creates a relaxing seat which envelopes the user. High quality padding, combined with the luxury fabrics, compounds the feeling of relaxation, which has become synonymous with Resimercial design.
When discussing the inspiration behind the design of Camden, Richard Jones, lead designer of his self-titled practice said 'Camden is a beautifully balanced and proportioned lounge chair that encapsulates the charm of mid-century British Design. This sense of nostalgia coupled with the soft tactile shapes of the timber detailing help to create a calming, engaging environment'.