March 6, 2023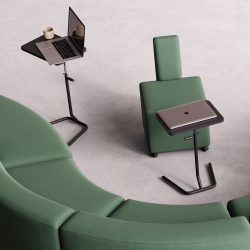 An inaugural conference that gave insight into how the UK furnishing industry is mitigating climate change proved an outstanding success. The Routes to Greater Sustainability Industry Day was organised by The Furniture Makers' Company in association with the British Furniture Confederation (BFC) and took place on Thursday 16 February at Furniture Makers' Hall, London.
The free event, which was sponsored by FIRA, Ocee Design, Panaz and SATRA, was the first pan-furnishing industry conference of its type and welcomed businesses and delegates from all sectors of the domestic and contract markets, with the aim of sharing knowledge and best practice on routes for greater sustainability.
A packed room of delegates enjoyed nine short insightful presentations, which included an overview of potential new government legislation by the BFC; a focus on the Furniture Industry Sustainability Programme (FISP), the UK's only industry specific scheme; and information about how to measure your company's carbon footprint by SATRA. The schedule also included several case studies from companies, including Carpet Recycling UK, Hypnos, JPA Workspaces, Panaz and Silentnight, on the steps they are taking to aid carbon reduction. In between the presentations there were plenty of networking sessions offering delegates the opportunity to connect and learn from each other.
Joanna Knight, Climate Change and Sustainability Committee chairman, said: "Our Routes to Greater Sustainability Industry Day offered a unique opportunity for colleagues from throughout the furnishing sector, from retail, office, bedding and flooring, to come together to share knowledge and experiences. We were delighted with the attendance and the extremely positive feedback. We intend to build upon this success and develop a range of initiatives to promote greater understanding."
The industry day was supported by key trade associations including the British Furniture Manufacturers Association (BFM), Carpet Recycling UK, Commercial Interiors UK, FIRA International, the National Bed Federation (NBF) and SATRA.
NBF executive director Jessica Alexander said: "it was a pleasure to be one of the speakers at The Furniture Makers' Company Routes to Greater Sustainability conference, talking about the legal and other drivers for change, apart from the obvious one. I'm so proud of the work we have been doing on eco-design and our Pledge for Our Planet, helping our members to be prepared for what's to come."
The Routes to Greater Sustainability Industry Day is available to watch on YouTube. https://www.youtube.com/playlist?list=PLmAQeCKwox23DVkcVIhnYDz-WxpoebRt9