May 28, 2023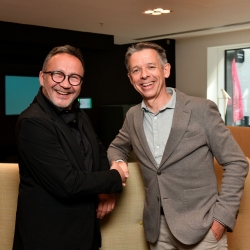 Royal Ahrend has announced the addition of Deberenn to its international product portfolio. The company believes the tie-up will enable Royal Ahrend to offer a broader and stronger range of soft seating products and lounge area furnishings. It also claims that the move will help to meet changing customers' needs, esspecially to better address the trend of hybrid working, where community areas play a central role as connecting factors and social meeting places in offices.
Deberenn's soft seating products are designed to be well suited for these types of areas. With designers from France, UK, Spain, Italy, USA, and Turkey, Deberenn delivers its range of soft seating to over 45 countries. Having already been a trusted partner of Royal Ahrend in Eastern Europe and the UK over the years, this international collaboration with Deberenn expands on that partnership.
The firms believe that Deberenn products align with Ahrend's vision on vitalising workspaces.  While virtual interactions and video conferencing have become an integral part of the hybrid working trend, the central community area in the office remains irreplaceable as a unifying element for colleagues, partners, and clients, a recent study conducted by Royal Ahrend shows. Correspondingly, the hotelification trend emerged, where offices are designed to provide warmth and hospitality to motivate employees to return. Expanding their partnership, allows both firms to respond to this trend as well.
Eugène Sterken, CEO of Royal Ahrend: "We are very pleased to intensify our collaboration with Deberenn in Europe. The design philosophies fit very well together, and the products are a great addition to our portfolio which enables us to better serve our customers' needs."
Mustafa Kadioglu, CEO of Deberenn, adds: "Partnering on a large scale with Royal Ahrend aligns perfectly with our design philosophy, as the company is globally renowned for its timeless office furniture solutions. We are very much looking forward to this collaboration."