November 2, 2014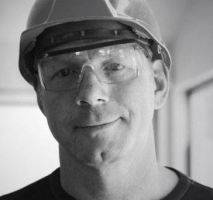 There's no doubt about it, designing and managing a new workspace is a challenge at the best of times. With so many different aspects to consider, designers must create a space that is both aesthetically pleasing to work in, while ensuring that the safety of the people working in the building, and the public exposed to the redesign work, is being prioritised. Designing and managing a building project is a lengthy process that requires meticulous planning to make sure you are fully equipped. The Health and Safety Executive (HSE) is frequently assessing the safety credentials of refurbishment projects and has demonstrated in the past that it is not afraid to dish out hefty fines to companies that fail to abide by the UK's health and safety laws. Avoid any unwanted surprises by doing your homework, completing a risk assessment and creating a strategy of how you will complete the project in a safe, efficient manner.
Risk assessment
You are required by law to complete a risk assessment, which allows you to identify measures to control risks in the workplace.
By completing a risk assessment you will need to consider all the potential threats that your employees may face when operating in the workplace so that they don't have an accident while working. You don't need to be a health and safety expert to complete one, simply identify what the hazard is, and who it could harm, note down the preventative measures to take and record your findings for future use.
While you are probably already taking appropriate measures to protect your employees, a risk assessment is a good way to confirm that you are fully prepared for all the potential hazards that may present themselves, and can be reviewed and updated regularly as part of an ongoing process.
Don't panic about filling out loads of paperwork, it doesn't take long to complete and if you have fewer than 5 employees, you don't even have to write down your risk assessment.
Protecting workers from asbestos
If you are refurbishing a building that is new to you, make sure you research and check for any dangerous elements such as asbestos.
Asbestos is incredibly dangerous, killing 5,000 workers every year, which is more than those killed in road traffic accidents. When materials that contain asbestos are disturbed or damaged, such as in building work, the material releases fibres into the air which are life threatening when breathed in. The damage cannot be identified immediately, but can develop into serious diseases such as lung cancer and asbestosis over time, which both cause irreversible damage to the lungs and throat.
Remember, asbestos can be found in any building constructed before the year 2000, even if you think that the building is in modern, carry out the appropriate checks to confirm that there is no signs of asbestos before you start work. If you do find it, it's always best to call in an expert handler to remove it for you.
Noise exposure
Noise is unavoidable, but exposure to excessively loud noises can permanently damage people's hearing and once it's gone, it won't come back.
Workers are at risk of permanently damaging their hearing if they are exposed to loud machinery, or use noisy equipment for more than half the day, even if the loud noise is caused by impacts such as hammering.
To ensure that your employees are protected against noise, supply noise insulating materials such as ear plugs, send them for regular hearing tests and encourage them to report any hearing problems they may be having.
As an employer, it is your duty to act responsibly when it comes to the level of noise your workers are exposed to. Find out what levels of noise your employees will be dealing with before you commence work, add it to your risk assessment and try to find ways that the noise can be reduced.
When designing a new workspace, it's imperative that you take noise disruption into account at the earliest opportunity. If you're based next to a busy road, for example, make sure you've soundproofed the building accordingly.
Hand-arm vibration prevention
Hand-arm vibration occurs when workers are operating vibrating power tools, such as handheld drills, for long periods of the day.
The vibrations travel through the machinery into the hands and arms of the workers and long-term use of this type of machinery can lead to injuries and specific issues such as carpal tunnel syndrome. Many people experience symptoms after a few months of exposure to these tools, however others take longer to realise there is a problem.
The most important preventative measure you can take is regularly checking with your employees to make sure they aren't experiencing any of the warning signs, such as hand numbness, loss of strength in hands or not being able to feel things properly. These symptoms increase over time, becoming extremely uncomfortable and can eventually stop the person from being able to carry out their work.
Protecting the public
Public safety is as paramount as your employees' safety during the construction process.
A lot of refurbishments take place in buildings that house other offices and businesses containing hundreds of vulnerable people. Processes must be set in place to ensure minimal disturbances, especially if your work involves a great deal of loud noise. Try and insulate your space from noise as best as possible and close any doors when you can.
Don't forget to label the space as a construction site, if a public accident occurs on site and it's not properly labelled, then you could be held liable for damages, even if that person trespassed on your property.
Insurance
Accidents are sometimes unavoidable, and in those situations where we couldn't have done anything to prevent them, it is always important to have the peace of mind that insurance gives you.
Make sure that you have a good insurance plan that covers the entirety of your project, and will protect you against any unforeseen risks or damages.
________________________________________

Tom Grey is an industrial disease executive with Carrs Solicitors.