July 1, 2021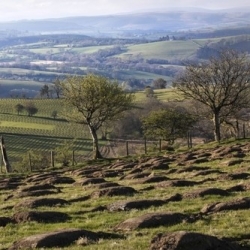 SAP SE (NYSE: SAP) has announced it is investing in scientific forestry research with The Carbon Community to enhance nature-based solutions to climate change, and improve the efficiency of carbon removal from the atmosphere. This research reaffirms SAP's commitment to helping organisations operate sustainably by ensuring these processes are having the greatest impact on the planet.
With a total woodland area comparable to four million football pitches, the UK is primed to push the boundaries of new climate research. SAP's donation will contribute to The Carbon Community's landmark carbon study funding 2,000 trees, with a focus on supporting the advancement of scientific knowledge and new approaches to growing trees. This much-needed research and field study will advance knowledge on the most efficient ways to remove carbon dioxide from the atmosphere using trees and soil.
The donation will also help plant the first 500 trees as part of SAP Forest UK, found in The Glandwr Forest in the Brecon Beacans, Wales.
Previous carbon accounting schemes have primarily researched the opportunities to capture carbon in trees, however, this investigation rooted in science, will also focus on how to maximise carbon stored in the soil, considering the role of biodiversity, as it is believed 75 percent of carbon is below the ground.
Dr. Colin Averill, ETH Zurich Crowther Lab, said: "This is an important world-first field trial which will measure the carbon sequestered in trees and soil on a scope and scale not seen before.
"Combining two nature-based treatments, soil microbiome inoculation and enhanced rock weathering, to understand their ability to accelerate and enhance forest carbon sequestration is truly unique, and is one example of how The Carbon Community is pushing the frontiers of nature-based climate solutions."
In addition, SAP is aiming to further educate those who are interested in sustainability with the launch its new Circular Economy course, Helping Business Thrive in a Circular Economy, which is available to all and launches in October 2021. The five-week online course, with four hours of content per week including weekly assignments and a final exam, is completely free and will showcase how circular business practices create value and can help us tackle the current problems that the planet, people, and modern businesses are facing. SAP is committed to advancing the understanding of a circular economy and highlighting how technology can be used for climate action.
Each individual that completes the course will receive a formal certification of achievement from SAP, and in addition, for every individual that pre-registers, SAP will grow one tree to help support this exciting field-trial which is being led by a world class team of scientists.
Michiel Verhoeven, Managing Director, SAP UK & Ireland, said: "At SAP, sustainability is an integral part of our vision and purpose, and we are continually looking at how we, and our ecosystem of customers and partners, can progress. This investment, led by the fantastic team of scientists at The Carbon Community, and the launch of our new Circular Economy course, have the potential to advance all of our consciousness about how organisations can play their part and take action to address our climate challenges."
Charles Nicholls, Co-Founder and Trustee, The Carbon Community, said: "We are delighted to have the support of SAP UK & Ireland for The Carbon Community's landmark field trial. SAP's willingness to support both planting trees and breakthrough scientific research is progressive and refreshing. Tackling the climate crisis requires us all to reduce carbon emissions, to remove carbon dioxide from the atmosphere and to work together. Thank you SAP for your support."