November 6, 2015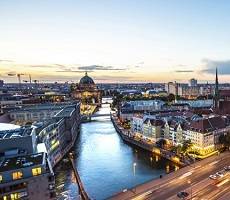 The demand for office space in Europe grew over the third quarter of 2015 with total take up of over 3 million sq metres, on a par with the previous third quarter peak seen in 2007, according to new figures from property consultancy JLL. Take-up over the third quarter of 2015 is the highest on record – up 29 percent year-on-year and full year volumes are forecast to reach 11.5 million square metres, an increase of 8 percent on 2014. Across the continent, demand for office space is being driven by multiple markets recovering, albeit at varying speeds. Germany demonstrated some of the strongest results in Europe. Four of the five largest markets improved on Q3 2014 and Berlin, Hamburg, Dusseldorf, Frankfurt and Munich reported a combined take-up of 775,000 sq m, as the strong employment market in Germany pushes up demand for office space even further.
Leasing activity in Lyon, a market which has underperformed in recent quarters, demonstrated the largest regional increase and recorded the strongest quarter on record, up 142 percent year on year. Activity in Barcelona jumped by 135 percent, the second largest increase in take-up in Europe and Paris also saw leasing levels significantly improve in Q3 after a disappointing start to 2015 with y-o-y growth of 39 percent.
While London leasing volumes were down on last year, activity remains very strong, up 11 percent on the long terms average, driven by solid corporate activity and a strong development pipeline. In the Southern European markets of Italy, Portugal and Spain, the continued recovery means occupier demand now outstrips supply, resulting in rental growth over the quarter.
Alex Colpaert, head of offices research EMEA, JLL said: "Occupier activity has reacted off the back of a steady recovery in the Eurozone economy and relatively healthy business growth prospects. Though demand for space across Europe is strong, supply constraints will continue to push rental growth in many markets, such as Madrid and Barcelona where speculative development has not kept pace with corporate growth. Overall we anticipate this strong performance to continue until the end of 2015."
He continued: "The German office leasing market is seeing substantial continued growth. In addition to rising demand for prime city space, occupiers are increasingly looking at a wider range of city submarkets. In some areas just outside of the very prime CBDs in Berlin and Hamburg vacancy of high quality space is close to 0 percent, driven by an increasing cohort of media and tech companies looking for a base."
2016 should see further acceleration in Europe as more markets turn to growth mode on the back of improving sentiment and underlying employment figures. JLL expects total leasing volumes to reach approximately 12 million square metres, a 5 percent increase on 2015.