February 19, 2020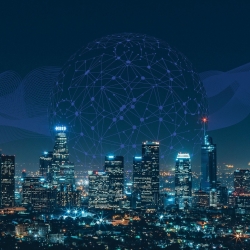 Global spending on smart cities initiatives will total about $124 billion this year, an increase of nearly a fifth on 2019, a new report suggests. The largest share of investments (one third) is currently in more advanced electricity and gas systems. Visual surveillance, advanced public transportation, intelligent traffic management and connected back office systems follow, representing more than half of spending.
According to the International Data Corporation report (subscription required), one of the areas of fastest spending growth over the next five years will be on vehicle-to-everything (V2X) connectivity, in which a vehicle communicates information to any entity that may affect it, with the aim of improving road safety, traffic efficiency and energy efficiency. Other growth technologies are digital twin (digital replicas of physical assets) and wearable technology for officers.
Singapore is forecast to remain the top investor in smart cities initiatives. Tokyo will be the second largest spender in 2020, driven by investments for the Summer Olympics, followed by New York City and London. These four cities are each predicted to spend more than $1 billion in 2020 on smart city initiatives.
The US, Western Europe and China will account for more than 70 percent of global smart city spending over the next five years, according to the forecast. Latin America and Japan will experience the fastest growth in spending in 2020.
Out of more than 200 cities analysed, fewer than 80 are investing more than $100 million per year, the report says. Around 70 percent of investment is predicted to be in cities spending $1 million or less per year, with small and medium-sized cities increasingly expected to invest in relatively small projects.
Image by Tumisu