February 15, 2018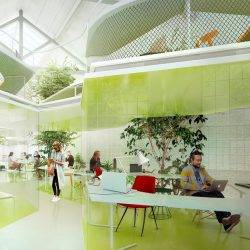 Searches for private offices have become more popular than coworking space among SMEs over the past year, according to new data from commercial property marketplace Hubble. The firm reports that this marks a reversal from the previous year's results, although searches for coworking space remain disproportionately high compared to the overall office market. According to Hubble, searches for private offices grew an average of 40 percent month-on-month from January 2017 to January 2018, with 43 percent more searches being made for private offices over coworking space, and searches for the category 'private office' comprising 62 percent of all searches on the Hubble platform.
Growing SMEs with over thirty employees showed the most interest in acquiring private office space, with an increase of 248 percent year-on-year in number of overall searches for private space – one of the largest increases of any type for any number of people across the platform.
Over the period, private offices became the largest type of office by booking number on the platform.  51 percent of all bookings were for private offices, and 49 percent for co-working spaces/shared offices. This is a significant reversal in trends since the same period in the year before when private offices made up only 35 percent of all bookings and co-working spaces/shared offices were 65 percent. This is the first time Hubble claims to have seen private office occupancy overtake coworking and shared workspace since its founding in late 2013.
Image: Second Home, Holland Park, London