March 26, 2021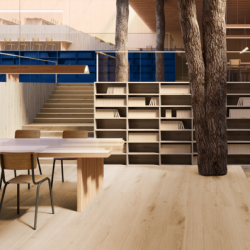 Tarkett is revealing its new ultra-realistic modular vinyl collection, iD Inspiration. Reimagined for a rapidly changing world, iD Inspiration harnesses the power of nature to create feel-good interiors. Tarkett's unique high-definition digital printing technology captures the beauty of wood and stone, revealing the most subtle details in grain, texture and colour. iD Inspiration will be available across Europe from May 2021 onwards.
Elaborately designed to make the flooring creation process easy, iD Inspiration comprises 100 decors and seven formats to allow agile transformations of space. Combining the design finesse of high definition printing with an ultra-matt effect and exceptional resistance and durability provided by Tarkett's breakthrough PU technology TEKTANIUM, with iD Inspiration you can have it all.
Tarkett human-conscious design
iD Inspiration exemplifies Tarkett human-conscious design. Developing a circular economy, innovating with good materials and exceeding indoor air quality standards are essential elements of the company's pledge to stand with present and future generations.
Inspired by nature, iD Inspiration has been designed to improve wellbeing by deepening the connection between the outdoors and the interior spaces where people work, learn and care. Designed and made in Europe, iD Inspiration is phthalate-free and printed with water-based inks and achieves enhanced environmental and indoor air quality standards. As well as this, iD Inspiration delivers ultra-low VOC emissions for optimal indoor air quality. The collection has also been designed with the circular economy in mind: glue down tiles contain up to 40.7 percent recycled content and all iD Inspiration installation offcuts can be recycled via Tarkett's ReStart recycling and take-back programme. Clickable planks and tiles of the new collection can also be recycled post-use through ReStart.
Design finesse and ultra-realism
iD Inspiration stands for design finesse and precision. The curated collection of colours and themes offers designers a natural palette of unrivalled breadth, from contemporary to classic and from soft to striking. Three design families – Naturals, Authentics and Classics – employ digital printing, embossing in register and rotogravure respectively to produce the most ultra-realistic modular vinyl flooring in the market.
"The upgrade of iD Inspiration is an exciting moment for us. This revamped collection not only offers designers and architects a rich creative resource of exceptional quality, it also ensures that the interior spaces they create will be healthier and kinder to the planet. It is this dual ambition of ours, to combine beauty with a profound concept of wellbeing, that drives us to constantly reimagine our collections, always seeking to improve and looking to the future." — Thorsten Beinke Decor Director, Tarkett EMEA