August 9, 2021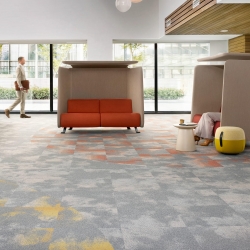 Working from home has not only laid bare just how much we miss interaction with colleagues, but also how the office could and should support employees to work and feel better, so that they will not only feel safe to return, but will want to return. Through Tarkett's extensive research on office worker's attitudes towards returning to the office, a successful workplace that supports employees to thrive needs to prioritise collaboration, flexibility and sustainability.
With this in mind, Tarkett has launched its versatile and innovative DESSO Serene and Serene Colour collection, to complement the fast-paced nature of workplaces and offer complete design flexibility. The launch of DESSO Serene and Serene Colour highlights Tarkett's continued effort towards improving the indoor workplace environment for employees, while caring for the outdoor environment in its design and manufacture, by continuing to introduce carpet tiles to the market that are 100% recyclable.
"Now is the time to continue envisioning the workplace we want to return to. One that uses the latest in design to encourage collaboration, liveliness and activity, just as much as quiet contemplation and clarity of mind. The DESSO Serene and DESSO Serene Colour collection offer the design flexibility to do just this, with a plethora of colours and gradients to brighten up interiors and create modular spaces" says Becky Pole, Design Manager at Tarkett
Design and flexibility
Designed specifically to apply a much-needed human touch to workplace interiors, the subtle pattern of DESSO Serene and Serene Colour work in harmony to ensure fluidity between individual interior spaces and more open spaces.
Available in a rich palette of nine neutral tones, DESSO Serene scales from cool, calming shades to warm and friendly hues. Complementing the organic nature of DESSO Serene, Serene Colour allows for complete design flexibility with its ombre-like colour transition. Comprising eight accent tones, designers can opt for a more understated scheme, made up of neutral tones, or choose to inject vibrancy through a seamless evolution from DESSO Serene to Serene Colour.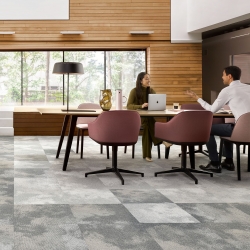 In addition to their aesthetic appeal, DESSO Serene and Serene Colour provide a truly sustainable solution. They are made with 100% regenerated ECONYL yarn and at the end of their life-cycle, they are 100% recyclable in Tarkett's own carpet recycling centre. The tiles also come with Tarkett's EcoBase backing as standard, which contains upcycled chalk sourced from local water providers and has achieved a Cradle to Cradle Certified™ Silver level.
"Our ambition at Tarkett is to minimise the amount of carpet tiles that are incinerated or left in landfill. Instead turning the material from old tiles into a new product through our ReStart programme, which is dedicated to the collection of flooring to be recycled and reused as a new resource. The DESSO Serene and Serene Colour collection is 100% recyclable at Tarkett's own recycling centre, the only one of its kind in Europe. This is a prime example of how Tarkett is continually working towards closing the loop through recycling to unlock circularity, which reduces carbon emissions, usage of landfill and the amount of new raw materials that need to be sourced" says Mikael Persson, Segment Marketing Manager, Workplace at Tarkett (UK&I)
DESSO Serene and Serene Colour is the latest collection from Tarkett, designed to help create offices that employees want to return to. Tarkett's collections are designed to be combined, with a range of prints, patterns and tones, as well as carpet and smooth surface options. Carefully selected to bring harmony and tranquillity to one zone and collaboration and liveliness to the next, these collections contribute to creating workplaces that people will want to return to.