July 13, 2017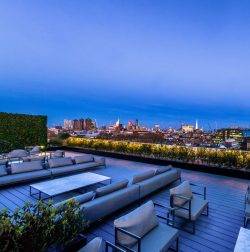 Companies in the tech and media (TMT) sector have accounted for the greatest proportion of City take up so far this year new figures from Savills suggest. This is the largest amount of take up ever by this sector in the first five months of a year, representing a 20 percent share of the market, ahead of the professional services sector at 17 percent and insurance and financial services sector at 14 percent. TMF firms took 517,069 (48,036 sq m) of space out of a total of 2.25 million sq ft (208,699 sq m) to the end of May 2017. Key deals to complete in the City recently include visual effects company Industrial Light & Magic (owned by the Walt Disney Corporation) taking 47,010 sq ft (4,367 sq m) at Lacon House in the City fringe (Theobalds Road, WC1), joining other tech companies Argus and Exterion Media in the building.
City take-up was 292,764 (27,198 sq m) in May, with 12-month rolling take-up at 5.9 million sq ft (209,025 sq m), up 19 percent on the long-term average. The City vacancy rate stands at 5.4 percent, up on the same point last year by 90 basis points, but still down on the 10-year average of 6.7 percent, says Savills. The average grade A rent for 2017 so far in the City core is £61.90 per sq ft, and in the City fringe £59.17 per sq ft.
Philip Pearce, head of the central London leasing team at Savills comments: "TMT occupiers were out of the blocks quickly this year as the sector continued to grow: snapping up space primarily on the City fringe, which offers both the type of space these companies tend to favour plus slightly lower rents than those found in the City core.
"But it's not just all about tech. Total City take up for the year to date is up on the same point last year as occupiers from an array of different industries continue to be attracted by London's unsurpassed position as a global financial and professional hub."