September 20, 2022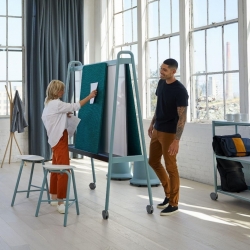 Teknion has announced that Routes, designed by Pearson Lloyd, has received the Gold award in the Office & Accessories category at the 2022 International Design Excellence Awards (IDEA).  Teknion Routes is unlike any other contract furniture system, as it eschews conventional thinking to offer an alternative, flexible solution that evolves with the workplace. It is designed to allow teams to create flexible, practical, and engaging workspaces quickly and efficiently. Utilising the collection, teams can easily define their ideal 'route' to completion for any given task, increasing the office's overall efficiency.
"Teknion and Pearson Lloyd are honoured that Routes has won Gold at IDEA, the premier awards program when it comes to recognizing exceptional design," says David Feldberg, President and CEO of Teknion. "Winning an award from IDEA, an organization that has recognized Apple and Tesla among other design leaders, is truly a great accomplishment for us." From the multipurpose stool and high table to the mobile soft screen and adjustable side table, simplicity, flexibility, and mobility are at the forefront of the design, offering furniture that's as agile as it is intuitive. An easel that is writeable, tackable, and stackable, the Routes Work Board allows you to choose your own pathway, adapting to multiple ways of working that promote user choice.
The Adjustable Side Table builds surface space for laptops, books, or coffee cups.  Simply adjust the knob and find the perfect height to add dimension and functionality. This table, coupled with any chair, creates a new work point anywhere on a floor plan. In a communal work environment, the Routes Personal Tote ensures there is space for personal items and a lockable drawer to increase their security.
"We are delighted to win this award for Routes and be honored amongst other innovative designs," says Luke Pearson, designer at Pearson Lloyd. "Knowing that users are embracing the light-hearted nature of Routes and are understanding the joyful intention behind the collection is truly rewarding," adds Tom Lloyd, designer at Pearson Lloyd.
Marking its 42nd anniversary, IDEA is one of the longest-running and most prestigious design awards programs. It recognizes exceptional achievements across many design disciplines, including industrial design, digital design, branding, and many more. This year, the program received the most entries in the competition's history, with over 2,200 entries from 30 countries. The winners represent 17 countries: 82 Bronze, 55 Silver, and 30 Gold.