June 23, 2020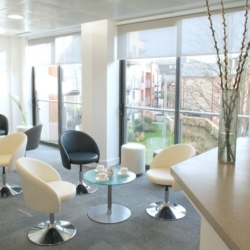 With millions of people now working from home or furloughed, they may be wondering when they will be asked to return to the office, perhaps imagining what their office will look like on their return and feeling a little anxious about going back to their work space. A TUC survey issued 27 April 2020 confirmed that 39 percent of workers returning to the office are concerned about safe distancing from their colleagues.
During the lockdown we have all had to learn and adjust to new practices to protect ourselves and others from the risk of the spread of Covid-19. We are now becoming accustomed to directional floor signage, increased hand sanitisation and keeping a safe distance from each other when out in public. These new practices will be implemented and continued in the workplace in correlation with Government guidelines, which also factor in the reduction or elimination of hotdesking, single person elevator use, one-way systems and staggering arrival and departure times to maintain social distancing.
The impact of Covid-19 has therefore challenged the conventions of the office building and will accelerate the implementation of different working styles.
In response to several questions and enquiries about returning to the workplace, we have put together a visual representation of a typical office layout compared to the New Covid-19 office.
The New Covid-19 office layout should feature some, if not all, of the following: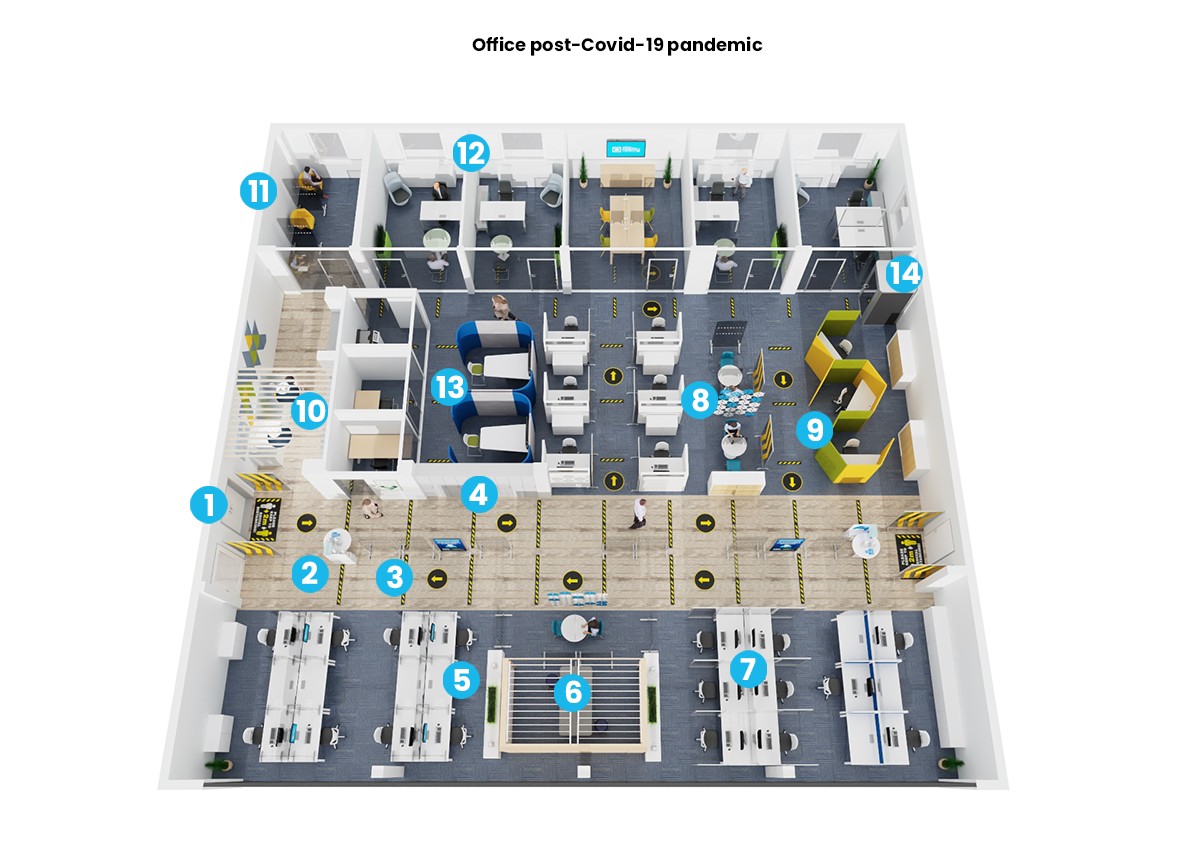 Signage at entrance and exit:Clear floor signage and markings introducing a one-way flow at entry and exit points. Along with suitable floor signage, another effective way to encourage a one-way system is to use manifestations  such as directional arrows on floor standing office screens. Signage or manifestations applied to floor standing protection screens can provide essential information at eye level, which will introduce a sense of calm and stability for people re-entering their 'New Covid – 19 compliant' office space.
Hand Sanitiser:Provision of hand sanitiser, at entry and exit points. A small reception desk could be utilised as a hand sanitisation station with an accessible desktop and in-built storage for additional hygiene related products.
Walkways and Corridors:Mobile glazed transparent floor standing screens to define and establish recommended barriers and enforce the one-way system. In the example, standard spot manifestations are featured on internal glass partitions and mobile glazed transparent screens. This allows and complies with the DDA (Disability Discrimination Act) guidelines, making the glass or glaze obvious in order to prevent people from walking into them. These screens are also ideal for creating temporary protected spaces for individual workers because they can be easily moved and repositioned.
Increased personal storage:Lockers for the storage of personal items and clothing during shifts. The Probe single door PPE locker has been designed for personal protective equipment  (PPE) and features an ACTIVEcoat antibacterial coating designed to reduce bacterial count by over 99 percent over an 18 hour period. The use of a mobile under desk pedestal like the Slimline Striker Metal Pedestal should also be encouraged for personal belongings.
Desk Top Protection Screens:Face to face working should be avoided, and this can be achieved by staggering shift times or positioning workstations side by side. However, there may be occasions where it is not possible to move workstations further apart and, in this case, desktop privacy screens such as The Safe Healthcare Desk Screen or The Future Protection Freestanding Glass and Antibacterial screen should be used to maintain adequate protection.
Cells, Pods or Rooms:The co working bench area and four stools have been removed to reduce contact and close proximity to each other. This has been repositioned within a free-standing cell, pod or 'room'. These structures are not subject to Building Control approval as they have no fixed walls but still offer visual and acoustic privacy. The surface wall options can include glass, wood cladding and wipeable whiteboards such as The Collaborate Room which can be used for individuals or pairs adhering to recommended guidelines.
Three-way screens:Acrylic, glass and Plexi glass antibacterial desk top screens reduce the risk of airborne germs spreading between colleagues ensuring that visibility is retained for better levels of communication and speech recognition. The Future Self Supporting Privacy Screen 3 is available in various sizes which can span the length or depth of the workstation, making it an ideal three way screen solution.
Acoustic suspended or hanging solutions:These can enhance the office both visually and acoustically whilst helping to establish new walkways and boundaries. They can also add interest and are available in a number of different shapes. We have included the Airflake screen in the New Covid-19 Office as it's visually interesting and can be configured to suit any space.
Modular workspaces or hives: We have introduced The Cypher Honeycomb booth to encourage more focused driven work and to minimise face to face working by ensuring modular workstations are positioned facing away from each other. There are endless creative possibilities for these types of modular systems.
Tea and coffee making restrictions: Forget the tea or coffee round. It may be a case of making a tea or coffee only for yourself and using your own cup or mug. This will reduce any potential contamination and help to contain any harmful transmission. A kettle may be replaced with a hot tap as they are faster and more efficient, decreasing the time employees may spend in the kitchen. Hot taps are also more hygienic, providing the ability to clean and sterilise spoons and utensils quickly.
Break out areas:Always a popular place for people to meet and relax, larger break out areas or canteens may be closed off completely but if that is not possible measures should be put in place. Comfortable individual lounge seating spaced out or separated by office screens may replace the two or three-seater sofa. Individual lounge seating can also feature swing tables or tablets on the arm enabling the use of tablets or laptops whilst relaxing. The hygiene levels of the upholstery on any existing or new furniture will now have to be considered. There are several performance fabrics and vinyls, which are all anti-microbial, bleach cleanable, waterproof and flame retardancy to Crib 5.
Visitor chairs:In the cellular offices, capacity should be reduced to one to discourage face to face meetings, and tabletop protection screens installed. Someone using the cellular office may wish to spend less time in the open office area, so we have introduced some executive lounge chairs and planters to increase wellbeing levels and to inject a sense of calm.
Video Conferencing Booths: It's inevitable that there will be some spaces in the office which are now underused. In this example, video conferencing booths have replaced a bank of desks and will provide the new and acceptable meeting or hook up platform.  The Suka Media Pods are easy and quick to install (virtually tool free) and feature high protective upholstered panels in acoustic fabric or anti-microbial vinyls.
Acoustic Phone Booth or Phone Box: With the increased need for privacy in an open plan office environment, phone boxes can be installed to encourage users to make calls or video conferencing calls in comfort and in private without disturbing others.
Peace and quiet
We tend to take mobile calls away from our desks in order to seek privacy in a quieter area or head outside. With social distancing measures and one way systems in place, the usual exit route to take mobile calls may be compromised, which is why we have introduced the Harbour acoustic phone box to the New Covid-19 office.
Before the onset of Covid-19, we were moving slowly towards a more flexible approach to work with agile working, co-working and remote working
There will be changes to the office as well as the way we work. Before the onset of Covid-19, we were moving slowly towards a more flexible approach to work with agile working, co-working and remote working to achieve a more fluid practice, which we never really fully embraced. Covid-19 has fast tracked home working, where possible, and many people are now considering whether they need to work at the office every day of the week.
We must now take a different view of what the office is used for, but also should be excited about what it can be used for. With reduced footfall comes free floor space which could be used to make the office more of a hub where people come to learn new skills and make well-presented video conference calls, leaving the more focused style of work for the home.
It has been a stressful few months to carry out everyday tasks with safety measures interrupting the status quo and natural flow of human movement so the return to the New Covid-19 Office may therefore be daunting for some. We will want to feel safe and protected whilst at work and we hope you will feel more with reassured with the features and suggestions we have made for the New Covid-19 Office.