April 30, 2020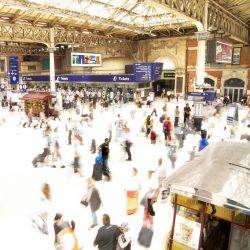 The past few weeks have been a time of extreme disruption and tension caused by the COVID-19 pandemic, but there has been a sliver of good news – people around the world have been quick to notice the environmental benefits of people remaining in their homes.
In just a short amount of time, the air quality has drastically improved in major cities around the globe, and overall pollution and greenhouse gas emissions have fallen. While it may feel like we've all been social distancing for years, it's actually only been several weeks – and the environment is already reaping the benefits.
 While much has been publicised about air quality improvements, the perspective of the employee shouldn't be overlooked. Although it's true that what we have been experiencing is totally out of the norm, consider this: when social distancing guidelines are lifted, will employees really want to go back to full-time office work? And if not, does the environment factor into their decisions?
Eco-conscious workers
 It feels like a lifetime ago when streets all over the world were filled with environmental protestors demanding change for our planet. The pandemic and subsequent lockdown has led to reduced pollution and a re-emergence of wildlife, both of which were only a distant dream scenario for environmentalists a few months ago.
Our change in habits has not only affected our regular day-to-day life but also the planet, bringing many employees to reflect on how remote working is having positive benefits both personally and environmentally. In fact, 77 percent of respondents in our recent survey of 2,250 office workers stated that the believe working from home is one of the most effective ways to help the environment.
With commuting to and from work now a distant memory, over half of employees have worried about the impact that certain activities (like their commute) have on pollution. In fact, studies have suggested that the UK's carbon emissions have dropped 48 percent since COVID-19 lockdowns, truly showing that our actions, including not travelling to work or taking flights, are having a positive impact on the country.
However, there is much more than just our commuting that has been affecting our planet when working in an office. From using plastic bags daily (67 percent) and improperly throwing away recyclables (61 percent) to using plastic straws (59 percent) and throwing away leftover lunches (59 percent), office workers are working to change their environmentally harmful habits. Without thinking, our consumption of these materials has gone down during lockdown as we strive to be more economically and environmentally conscious.
Happy talk
But, it's not just the environmental impact benefits that proves appealing to those working from home. In the UK, it is clear that the link between remote working and environmental impact is top of mind for many, alongside other benefits of working from home. Overwhelmingly, saving time (72 percent) and saving money (68 percent) were seen as the top benefits of working from home.
With employees spending an average of nearly an hour commuting every day, working from home is proving beneficial for employee's mental health and consequently their productivity. The time saved commuting could help workers focus on personal wellbeing and they can even take up new hobbies, which could increase creativity and productivity in the long run.
Many organisations worry that remote working will make their employees more distracted and less productive. However, 45 percent of respondents actually feel happier working from home, with 37 percent being more productive. While many employees might find the transition difficult at first, and find they are distracted by social media, television, their pets or family members, once employees are used to the change in pace, many claim to be even more productive without the many distractions that arise in the office day.
By allowing traditional in-office workers to either cut down or eliminate their commutes and plan their day with a more flexible schedule, remote work is helping employees feel better about their environmental choices, while simultaneously helping to reduce stress and save money.
Changing our habits
We've long seen the benefits of remote working allow employees to have more flexible schedules, but as most of the world has turned to full-time remote working amidst the COVID-19 pandemic, one of the unexpected benefits was the impact it would have on the environment.
It's clear that office workers are concerned about the impact their behaviors are having on the environment, and allowing them to work full-time to part-time remote can help to mitigate carbon emissions, save employees time, and ultimately create a work culture where employees are happier and more productive.