January 29, 2016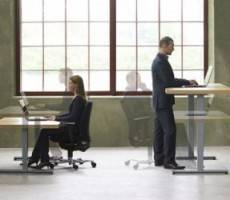 While the UK, US, Australia and other nations continue to treat them as something of a novelty, across Sweden, Norway and Finland, over 80 per cent of office workers use sit-stand desks. Offering employees a height adjustable work station is now mandatory in Denmark. However, sit-stand working is still in its infancy in the UK, with only 2 per cent of similar workers having access to variable-height workstations.  Given the huge amount of news coverage devoted to the subject of sedentary lifestyles in the last couple of years, 'sit-stand' and 'active working' have become buzz terms in UK workplace design. The 'On Your Feet Britain'* campaign has raised awareness of the health perils risked by the many Brits who spend an average of 8.5 hours a day sitting, whether at their desk or slumped in front of the telly.  Inevitably, savvy employers will be asking themselves if they can afford to ignore the problem.
If you are taking the time to read this, you are probably already well aware that sitting down all day can reduce productivity, increase stress levels, lead to obesity and cause back pain and RSI.  Even more disturbingly, perusal of recent research* tells us that, compared to the shortest time spent sedentary, the longest time spent sitting was associated with a:
112 per cent increase in risk of diabetes
147 per cent increase in cardiovascular events
90 per cent increase in death due to cardiovascular events
49 per cent increase in death due to any cause
So, when you consider that back problems alone cost UK employers more than 15 million workdays in 2013***, sitting down adds up to a very expensive problem.  The obvious solution is to introduce sit-stand desks to the workplace, as they not only help to get people up on their feet for at least part of the working day, but also help companies to meet their DDA and DSE obligations.  However, as the UK is still an emerging market for the manufacturers, FMs need to be clued-up about the various types of sit-stand desks on offer.   As well as ensuring that their chosen solution is not only cost-effective, but efficiently and safely changes the way people work, they also need to know the answers to some common objections offered by wary finance and HR directors:
Objection #1: 'People won't want to work standing up!'
Given the aforementioned media coverage of sit-stand working, it is the hot topic at the water-cooler and employees are going to start questioning why their bosses aren't making provision to protect them from the ill-effects of a sedentary lifestyle.  Nobody is suggesting that employees should be on their feet all day, but an easily adjustable workstation gives them the opportunity to follow medical advice and get up on their feet every twenty minutes or so and regularly vary their posture. The easier the desk is to adjust, the more likely people are to use it actively.
Objection #2:  'Having different height desks will make the workspace look untidy'
The untidiness issue is easily addressed by having fixed-height privacy screens and adopting a 'return to seated height' policy alongside your 'clear desk' directive – beside which, for who and what are you designing your office; the wellbeing and productivity of your people, or the Aesthetics Police?!
Objection #3: 'Easily adjustable desks will be too expensive to buy and run'
Now that the technology has matured in Scandinavia, and is therefore cheaper to manufacture, you can buy fully electronically-adjustable desks in the UK from £400 each.  They are far easier to adjust than the old handle-wound versions and more adaptable to various users and tasks than gas-action counterweighted desks, because you don't need to pre-set the mechanism for differing weight loads.  With many electronically adjusted sit-stand workstations drawing only 0.3 watts of power on standby, (and ultra-eco versions as low as 0.1 watts), leaving a desk on standby, for every hour of every day,  for a year,  will cost less than 40p, or the price of one second class stamp.
Objection #4: 'Taller desks won't be as stable as sit-sit versions, and could be a health and safety risk'
Your sit-stand desks will be safe as houses; as long as you make absolutely sure that your chosen product  has been fully tested and holds its own compliance certificates, because the top end of the adjustment range can cause issues with stability.  It's also important to ask for desks with finger-safe mechanisms, particularly where the desk is part of a benching system.
So, what lessons can we learn from the pioneering work done in Scandinavia, where sit-stand working is a mature trend and considered to be the norm, and what questions should FMs be asking potential suppliers? The following is a brief overview of the main variants of sit-stand desks currently available in the UK, with some inside-track pointers to the technical information you need to look out for. However, it is vital to consider a serious word of caution regarding safety.   Producing a safe sit-stand desk is a complex process, not least because the added instability created by extra height has to be factored in from the very beginning of the design process. It is not enough for a manufacturer to add a sit-stand adaptation to a primarily sit-sit, or static desk and then use the parent range's compliance certificates.  Whatever solution you choose, it is vital to ensure that the sit-stand desk has been thoroughly and independently tested, as a complete unit, in its own right.
There are four main categories of sit-stand desks currently, and widely, available:
Counterbalanced: 
Counterbalanced (or cantilever) sit-stand desks are manually adjusted and have two finely-tuned springs with a gas filled damping mechanism, (rather than being hydraulic or pneumatic systems as often assumed).  They have the advantage of not drawing power, so there are no transformers to be left on standby and there's little noise, thanks to the absence of electric motors. They are also fairly quick and easy to adjust upwards, but setting them properly relies on accurate prediction of the weight they will be required to bear and that this stays constant. This means they are not ideal for those who might need to use heavy files or books at their desks, or for incapacitated staff who might struggle to apply enough pressure to push them downwards. Given the increasing popularity of energy-efficient electric sit-stand desks, there is now little difference in price between them and counterbalanced options.
Crank handle:   
Crank mechanism desks tend to be relatively cheap, but this is chiefly because they are old technology and have been surpassed in popularity, and ease of use, by electric and counterbalanced options.  They share counterbalanced desks' benefit of not drawing power, but they can be cumbersome to adjust and often only cover a small distance of adjustability, making them suitable only for sit-sit.
Hybrid: 
There are several products that allow retro-fitting of a standing option to existing desks.  They can certainly be budget options, particularly where cost-saving is the key consideration, but you can pay the price in compromised ergonomics.  As most hybrids tend to be add-ons, they only raise enough workspace to accommodate a laptop, or keyboard and monitor, and don't provide for all the other things we need to have easily to hand. For example, where are you supposed to put your printed materials, or the all-important mug of coffee, without the need to repeatedly bend down to a seated height surface?
Electric:
Electrically adjustable sit-stand desks have become the most popular option thanks to their simple one-button ease of use, which means that the entry price has come-down significantly.  It's now possible to buy purpose-built, low-energy, electric options from as little as £400.  The advantages are that many now draw only 0.3 watts of power on standby, with ultra-eco versions as low as 0.1 watts.  One of the greatest advantages of electric controls is that they can be adjusted easily for any height of user and regardless of weight load.  In Scandinavia, specifications are driven by the typical requirements of public sector tenders, and these in turn are based on recent European anthropometric data, which means they are required to adjust safely up to 1250 cm. Look out for options with three-part telescopic legs, which have a far greater range of adjustability than two-part legs. They can be adjusted to fulfil the lower range as well as the tallest requirements, but most two-part legs make a sit-stand desk less suitable for shorter team members. Again, make absolutely sure that your electric desk has been fully tested and holds its own compliance certificates, because the top end of the adjustment range can cause issues with stability.  It's also important to ask for products with finger-safe mechanisms, (as for all sit-stand options) particularly where the desk is part of a benching system.
References: 
* https://www.bhf.org.uk/health-at-work/events/on-your-feet-britain
** The NHS Choices website, which is aimed at allowing people to make informed decisions about their health, features a research review conducted by researchers from Loughborough University and the University of Leicester, which was published in the peer-reviewed journal Diabetologia in October 2012.
*** Office of National Statistics Report:  Sickness Absence in the Labour Market, February 2014
________________________________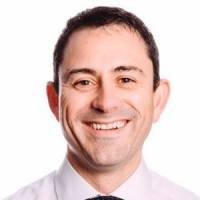 Ashley Hayward is Sales Director of Kinnarps UK. This article appears in the new edition of the Facilities Yearbook.