April 10, 2023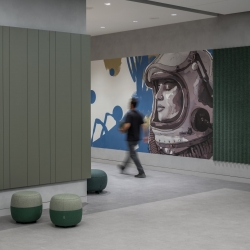 The new digital edition of Works is now available to view online for free. Print copies are on their way to subscribers. In this issue, we visit new offices in London, Thessaloniki and elsewhere across Europe, talk to designers from Switzerland, Sweden and the UK, report back on three separate shows in Stockholm and London (x2) and round up the best new products from all of them and then at the end of the day, sit down from a drink and a chat with a few industry pioneers from the Sustainable Design Collective to listen to their thoughts on what is energising them right now.
All back issues of Works can be found here.
Inside this issue:
NOTICEBOARD
We bring you the latest news, moves, initiatives and products from the world of workplace.
FREDDIE'S FAB 5
Our products specialist, Freddie Steele, offers up five of the best from the recent
Stockholm Furniture Fair.
PROJECT: PFIZER
The vibrant Greek city of Thessaloniki is the home of Pfizer's incredible new digital campus.
FREDDIE'S FAB FINISHES
Definitely earning his corn, Freddie Steele reveals his pick of the products from the Surface Design Show
PROJECT: 78 ST JAMES'S STREET
Squire & Partners show us their amazing new multi-tenant workplace scheme.
WORKSPACE DESIGN SHOW REVIEW
We're at Islington's Business Design Centre for the eagerly anticipated Workspace Design Show.
5X3: DESIGNER FOCUS
Ben Capper quizzes three fantastic product designers – Charles Job, Ronja Reuber and Arash Eskafi.
PROJECT: CADENT
We're chatting with Resonate Interiors about the transformative scheme they have delivered for Cadent.
THE SUNDOWNER
We meet up for a post-work drink and chat with three of the Sustainable Design Collective's leading lights.
OUT OF OFFICE
Has the success of the recent Workspace Design Show made us re-evaluate our attitude to trade shows?
Leader
It was recently announced that furniture group HNI are to acquire furniture manufacturer Kimball International. The transaction is valued at approximately $485 million.
It just so happened that we were enjoying a bit of downtime with a few furniture people on the day the news broke. When we told our friends of the acquisition, we were met with shrugs and furrowed brows. Even when we said that this was another example of a major US furniture business acquiring another major US furniture business – and was second only to the Miller/Knoll deal – the reaction was, well, there wasn't one.
Like a dog with a bone, I wasn't ready to let go! I wanted to know why such a major transaction between two of the largest businesses in the sector that these people work in wasn't of any interest to them. "I've never heard of either of them," came one reply. "I don't know them," came a second response. "It's not going to affect what I do," came a third.
And there it is. The truth is that, because neither HNI nor Kimball have representation in the UK, very few people here really care. They don't have friends who will be affected by the acquisition, and it won't have any consequences for their own day-to-day business, so why care? Fair enough.
It does still intrigue me though that, in a world where companies spend so much time, money and resources on brand awareness, there are still plenty of people (from within the same industry) who have never heard of global leading players. Is that arrogance? Ignorance? I don't know. But it just goes to show how insular the UK market can be.