September 26, 2019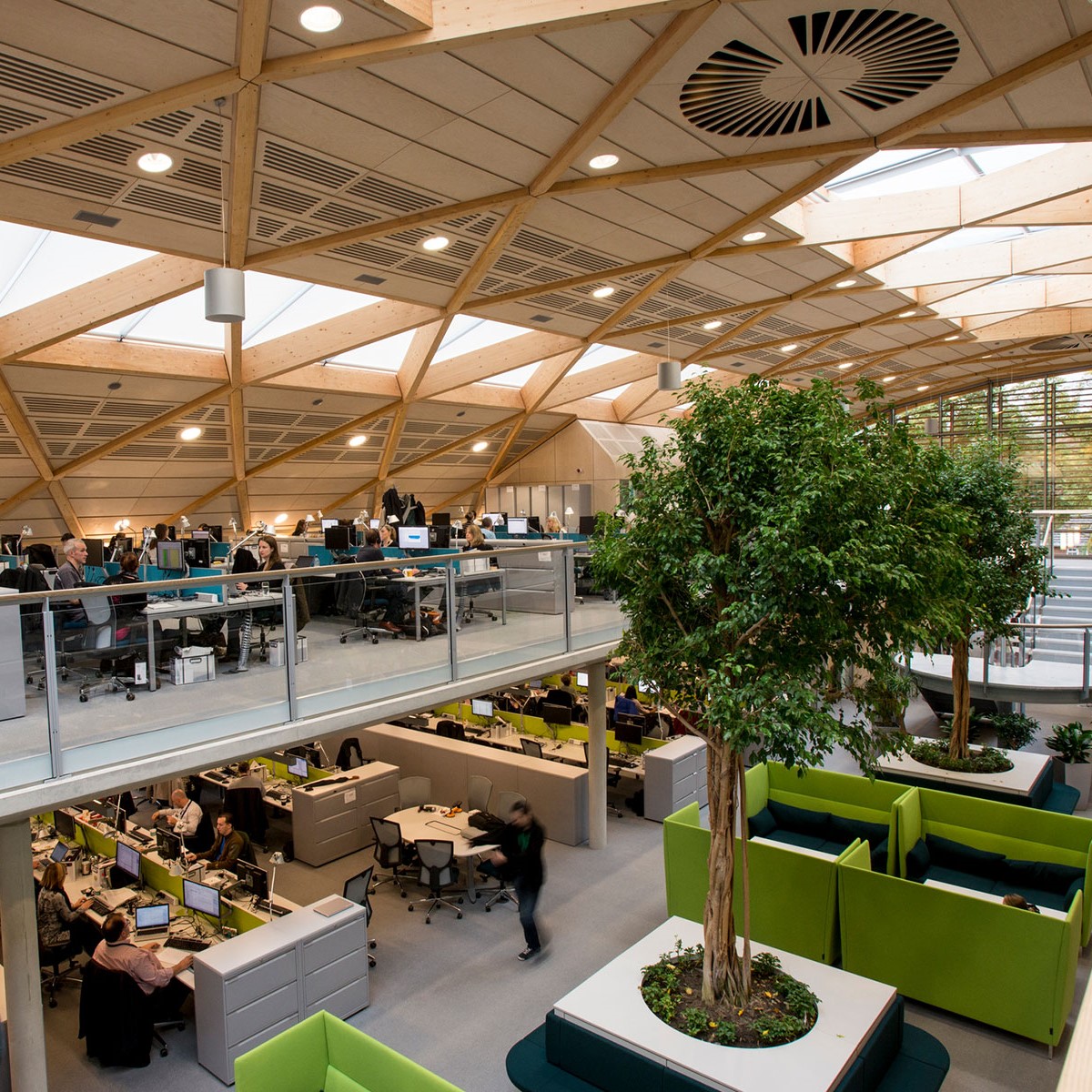 Minimising the impact of business on the wider environment is no longer a 'nice to have' but a business imperative. Pressure is coming from all stakeholders including employees, investors, customers and clients, government and the media. According to the Leadership in Corporate Sustainability – European Report 2018, three quarters of European business leaders believe that ignoring sustainability will affect their company's ability to create long-term value.
The message is clear: to survive, let alone thrive, businesses must take note and act now to address their negative impacts on the environment and society. Those designing and managing the workplace have a critical role in overcoming these challenges and meeting the demands and expectations of the workforce, purchasers, investors, policy makers and the office of the future itself.
Looking purely at the environmental impacts, much workplace focus is on reducing waste generated by day-to-day operations. When was the last time you visited an office without a recycling scheme or some sort of energy-saving lighting system? Less thought is given to the impacts of workplace change – building modification, relocation, clearance and fit-out – where the opportunities to keep existing assets in use and reduce waste are huge.
The circular economy is an approach to eliminating waste and reusing items to achieve greater sustainability. Global thought leader The Ellen MacArthur Foundation, for example, has done much to boost awareness of the circular economy and how our current way of doing things 'is reaching its limits.' Also, The Prince's Responsible Business Network provides guidance and practical steps to introduce a 'circular office.' This applies the principles of the circular economy to an office's design and operations, focusing on eliminating waste and retaining the value of existing resources for as long as possible.
Key factors of a circular office includes repairing rather than replacing damaged office furniture, buying sustainably sourced paper and ensuring that it's recycled after use. Given the work of businesses that re manufacture and refurbish office furniture over the last ten years, we know that this way of thinking and doing is not a fad. It is now becoming mainstream, with those not changing the way they operate soon likely to be in a minority.
What are the benefits of a circular office?
Businesses have a lot to gain from a successful 'circular office' strategy. It applies these principles to every aspect of the workspace from the fabric, fixtures and fittings of the building to the furnishings and consumables used on a daily basis. Applying circular office principles in the office requires a deep rooted change of systems and mind-sets, as well as collaboration with the supply chain. Significant environmental and social outcomes can be achieved even with small steps such as repairing rather than replacing damaged office furniture, buying sustainably sourced paper and ensuring it's recycled after use.
Applying circular office principles in the office requires a deep rooted change of systems and mind-sets
Cost savings is a key benefit. According to the Waste and Resources Action Programme (WRAP), a business can save between £400 and £1000 per employee annually by reducing waste. According to the Prince's Responsible Business Network, waste costs between well and badly managed offices vary between 1% and 4% of annual turnover. No business can afford to ignore this impact on the bottom line.
The impact that a circular office has on future-proofing the business shouldn't be underestimated now that the demographic balance of society is shifting. Generation Z – the generation entering the workforce now – are most likely to spend more money on goods and services produced sustainably. Working for an organisation that embraces sustainability will increasingly be a priority to the new workforce. That makes a circular office a priority to engage with key stakeholders.
The workforce, purchasers, investors and policy makers of the future are becoming more discerning when it comes to evaluating the environmental and social impacts of businesses. It will become tougher and tougher to employ the best talent – the workplaces of the future will need to work much harder.
Recent political shifts are another reason to move to a circular office. Last year the government report, 'Our Waste, Our Resources: A Strategy for England' set out a commitment to move towards a circular economy. Also, earlier this year, the UK legislated for 'net zero' carbon emissions by 2050. It won't be long before businesses are legally required to put measures into place and ensure that buildings and interiors are carbon neutral. Having a circular office enables businesses to already have eco-friendly measures in place, making them compliant with this forthcoming legislation even prior to its introduction.
How can businesses introduce a circular office?
There's no one-size-fits-all when it comes to circular offices. Businesses should first identify the areas where they'd most benefit from efficiencies. For example, they should establish what they spend the most money on, what they buy most often, what items generate the most waste, and what costs the most to dispose of. It's not just about the day-to-day items but also those that aren't so frequently purchased or disposed of, such as furniture.
How the business buys these items might need a rethink – are low-cost, low-quality products normally bought, which won't withstand continual daily use and can't easily be repaired? In this case, investing in higher-quality resources will help ensure longevity – even if the business no longer wants those items, they are more likely to retain value and can be sold on for reuse more easily.
When office furniture and equipment does get worn out or broken, or no longer fits requirements, there are businesses that provide re-manufacturing services that extend the life-cycle and retain the value of items, particularly furniture. Desks can be re-sized or re-topped; chairs can be repaired and refurbished; desk screens can be reduced and re-covered; the possibilities go on.
Circular economy principles can also be applied to IT equipment. It's common for businesses to throw out devices that no longer work, but the fact is that they can use services where these can be securely data-wiped, tested, reconfigured and repaired for resale or donation.
Become a circular office champion
A circular office isn't just about buying and disposing of items differently. It's about redesigning and creating a flexible resourceful workplace that can be adapted for future use, for example using modular components. It's about using sustainably sourced materials or those made of recycled content, buying reused items, passing on products no longer required through resale or donation, sharing or leasing items used less often.
Those designing and managing the workplace won't achieve the financial, environmental and social outcomes alone – it requires the engagement of the whole company as well as suppliers and contractors. But businesses can help drive change throughout the organisation and the supply chain. Those who don't should be looking over their shoulder because if they aren't embracing the circular office, their competitors will be.
Images: Crown Workspace delivered offices at the WWF Living Planet Centre in Woking