March 1, 2023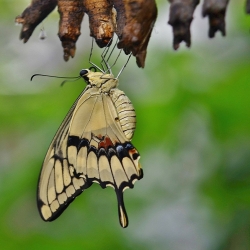 Long before the office died (I read its obituary in several publications) there were hotly contested debates about open plan offices. That is of course before those debates were eclipsed by more current workplace rantings (ask the editor). Skimming through the open-plan office timeline, Herman Miller launched action office, L-shaped desks with screens became shared benches, and decades later tech brands rolled out efficient open-plan workspaces around the globe, with Facebook creating the biggest open-plan office of all time with 2,800 employees. Gulp. Open plan officer workers and workplace professionals moaned about acoustics, stress, and more recently, germs in large open workspaces.
Somewhere between bench desk evolution and the global pandemic, Dr Who-like glass boxes appeared in our offices. As the legend goes, two American office employees were constantly distracted by their boss's loud phone calls, as he paced their open office. I always picture Chandler Bing's ass-slapping boss in this story for reasons unknown. The employees commented that they were going to buy him a phone box to stand in during calls. Bing's Boss replied, "Find one. I'll buy it." in true corporate American style.
After lots of research, the two employees 'allegedly' said "Boss, good news and bad news. The good news is we couldn't find a phone cabin. So we made one. The bad news is we've discovered a gap in the market for this product. So we quit." And so the largest producers of telephone cabins (pods) was formed, if the PR story is to be believed.
Demountable partitions – although nothing new – rose to the challenge created by acoustic issues and open office demands. You can no longer attend a commercial interiors fair without being swamped by interior brands selling pods, room in room solutions and demountable partitioning.
The thought struck me: Workplace designers removed the walls. And the furniture industry is selling them back to us; now portable and demountable.
This demonstrates forces of nature at work: the 'workplace pendulum.' Extreme changes are trialled, but if they do not meet requirements, the pendulum must swing back some. Extreme changes are often forced through and heralded as the future, usually driven by poorly hidden agendas. Clickbait publications tell us this is how our future will be, but user feedback and real-time requirements bring it back to the middle. Like the much-fabled desire path, humans find their preferred route and vote with their feet.
This is in line with society's battle to decipher hysterical online debates. Our online likes and opinions herd us into social media categories, to be fed with extreme right or left-sided views to stir our reaction and engagement. As with recent office developments, we are led to believe that choices are binary, when in fact 'everything in moderation' as my mum says.
So take away the interior walls if you must, but you'll still need meeting rooms and focus zones. If you don't have enough private space, you may have to rent meeting rooms for those annual reviews. If you don't provide enough tools for the job, nature will find a way. Or perhaps a pod, at least.
Ben Capper is an award winning commercial interior specialist from Manchester UK, now based in Zürich, with over 20 years top level experience in the European interiors industry. Read his blog here: www.furniturestrategist.ch
This comment piece features in the new issue of IN Magazine.