July 5, 2021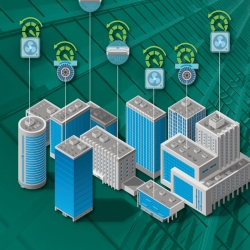 A new white paper from OakTree Power explains how an innovative technology called Green Demand Side Response (DSR) can help organisations transform their commercial buildings into a virtual power plant. Paradoxically, commercial buildings not only represent one of the biggest sources of greenhouse gas emissions, but also have the potential to utilise their own electricity as a resource to sell back into the Grid – a process familiar to many domestic homeowners with solar panels or Tesla Powerwalls.
Working In a similar way, Green DSR taps into the flexible load in medium and large sized commercial buildings, ingeniously reducing electricity consumption and CO2 emissions by periodically turning down non-essential plant and equipment for short periods of time. The resultant reductions are then diverted and sold to National Grid ESO, to ease the stress on the UK's energy system, caused by peaks and dips in solar and wind powered generation.
This is a sustainable, win-win scenario, because building owners and occupiers are not only reducing CO2 emissions for their own properties but are directly supporting the switch to renewables and contributing to the UK's target of Net Zero emissions by 2050.
Acting as an aggregator, OakTree Power connects multiple Green DSR users together to provide the megawatts of electricity needed to engage with National Grid ESO. The company absorbs the cost of installing the technology in suitable buildings and shares the revenue it earns from transacting with National Grid ESO, with all its Green DSR clients.
With so many organisations publishing their Net Zero targets and plans, the pressure is on for these companies to start delivering real CO2 reductions. This new white paper explains one easy way your organisation could go the extra mile to Net Zero through Green DSR.
 The white paper can be downloaded from OakTree Power here.