August 27, 2021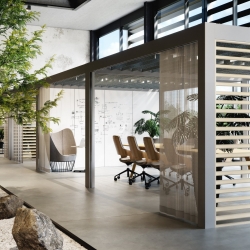 The new Clerkenwell Open event organised by the BCFA and  Women in Office Design takes place on the 9th and 10th September 2021. Although long the epicentre of the UK's office design community, this is a new two day showroom trail event which aims to provide a focus and a clear statement that Clerkenwell is "alive" again, and will provide a combined opportunity for architects, designers, specifiers , dealers and end users to network in person and exchange views.
The trail will take visitors on a journey through exciting new product launches and will also include a range of stimulating, thought provoking and topical seminars. The participating venues will be limited to 40 to ensure that visitor traffic is concentrated in the prime central Clerkenwell location of the showrooms.
This new event is being facilitated and managed by two well regarded organisations in the interiors and design industry – The BCFA (British Contract Furnishing Association) and WOD (Women in Office Design).
"After what has been a challenging year for our sector, we felt it was essential to organise this event to provide a boost to support the Clerkenwell showrooms so that they quickly regain their vibrancy and vital role within the contract sector." – Jeremy Stein, Managing Director of the BCFA. "The A&D community has missed out on networking and learning in last year and with Clerkenwell Open,  we will endeavour to bring designers, specifiers and workplace experts together, to socialise and share ideas and knowledge through our seminars and workshops." – Harsha Kotak, Founder of WOD
This event will be focused on all things connected to workplace design and the organisers are really excited to bring people together to share ideas, knowledge and stories. A programme of seminars and workshops over the two days will include the topics Sustainability & Circular Design, Workplace Design & Strategy, Furniture Dealers Network, The Future of Works and Diversity.