March 4, 2013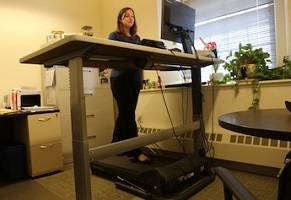 While shopping recently for a new arm chair, I noticed the prevalence of "snuggle chairs", marketed as wider than average chairs in which two people can sit cosily together. However, judging by some of the customers checking them out, they appeared much more suitable for use by individuals with a wider girth. You don't have to people-watch in a furniture store or visit the town of Tamworth, which this weekend the Daily Mail branded '"the fattest town in Britain" to notice people are getting fatter. Could a new "office treadmill" help address the obesity problem?
According to the NHS, obesity in England has more than doubled in the last twenty five years, with more than a quarter of the UK's adult population now clinically obese. That's going to include an awful lot of office workers – and office equipment suppliers are taking note.
Workplace equipment supplier Slingsby has launched a range of bariatric products – that's equipment designed to address obesity – in response to what it says is "rising demand from organisations across all industries that are modifying their premises to cash in on the UK's obesity crisis by appealing to this emerging customer base."
Bariatric products are already popular in the United States where companies now see obesity as an opportunity – rather than just a health problem. Said Lee Wright, Marketing Director at Slingsby: "In America, obesity now dictates a lot of the built environment with buildings being designed to be larger, and wider seats being used everywhere from sports stadiums through to bus stops and this is a trend that's already gathering pace in the UK."
Size for instance was a key concern during construction of the new Wembley Stadium which now has seats that are 9cm wider and 16cm deeper than the old Wembley.
Sourcing products that will accommodate larger workers may well become an intrinsic part of any workplace specification – but encouraging staff to in adopt a healthier lifestyle has also moved up the agenda, especially in the United States which has been battling obesity longer than the UK.
According to a recent study by US firms Fidelity Investments and the National Business Group, US employers have doubled their spending on wellness incentives in the last four years.
And now comes a radical way of reducing weight and encouraging exercise – while you work. Associate Prof. Manuel Cifuentes of the University of Massachusetts Lowell is testing the use of treadmills and sit-to-stand electric desks with five University employees who began integrating movement into their daily work lives in August 2012.
"We're really talking about interrupting long periods of sitting to get the body moving throughout the day," said Cifuentes who received funding for the project from the Center for Promotion of Health in the New England Workplace's (CPH-NEW) Pilot Grant Program. "The treadmills and stand-up desks are promising solutions to help people stay healthy but are in need of some improvements."
After installing the treadmills and desks in the offices of five employees, Cifuentes and his research team conducted focus groups and found that most of the volunteers are using the standing desks but not the treadmills.
One of the participants, Director of Human Resources and Payroll Operations Hilary Clark explained: "I'm finding that I can be productive on the treadmill while reading emails and talking on the phone," says Clark. "I find it more difficult concentrating on a spreadsheet, entering information in a database and using a calculator while walking. It really is about finding what works best for you and adjusting."
However, she added: "I feel so much better not being stuck in a chair," she says. "My mind seems to work faster and I process information better." "All participants are now standing all day long," says Cifuentes. "It might not seem like much but when you stand, you are moving without realising it."
With the health and safety executive research predicting that by 2050 the prevalence of obesity will affect 60 per cent of adult men, 50 per cent of adult women and 25 per cent of children, there is literally a growing market for larger furniture and fittings.
So it's to be hoped that products such as the "gym" treadmill – which says Cifuentes is not yet  ready for mass consumption in offices, will play some part in helping to reverse the obesity trend.