December 6, 2021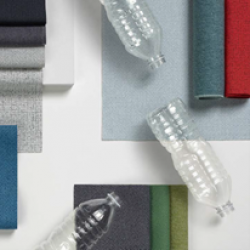 Sustainability has been steadily moving up the business agenda over the past few years, with COP26 placing more emphasis on the need for organisations to demonstrate that their operations are sustainable and lessening their overall impact on the planet. Many businesses may feel daunted by the challenges ahead, and there are certainly big steps that need to be taken in order to reduce corporate carbon footprints and move to more sustainable models.
However, there are also much smaller – but equally important – changes that can be made to demonstrate to employees and clients that businesses are taking their sustainability values seriously.
This can start with simple things such as the design of the office, the choices of products used and the suppliers that businesses choose to work with. From a design perspective for example, 99% of Requests for Tenders (RFTs) at Herman Miller ask about sustainability measures, demonstrating the importance of sustainability for designers and manufacturers if they aspire to continue to be the chosen supplier.
The triple bottom line
In order to look at the kind of sustainability choices that businesses are now making, it's important to first address what sustainability initiatives really refer to.
Ultimately there is a triple bottom line; sustainability initiatives must be good for the planet, good for people and good for the economy. There is no use in an initiative that is only good for the planet but makes no financial sense and doesn't benefit the wider people and environment involved in it.
Criteria for sustainable products
For facilities managers and those involved in sourcing sustainable products and items for the workplace, the starting point is to conduct a product lifecycle assessment. This measures the impact of the raw materials used to create an object, the impact of production, the use of the product and then the end of its life. From these assessments, businesses can derive a clear measurement of carbon used, water used and a range of other impact metrics.
The two stages with the biggest impact are the raw materials chosen and the physical production – and these are also the stages that manufacturers have the most control over. It is important to remember that design responsibility doesn't end at the point of sale. End of life plans are equally as important to consider from the start of the design process. This can include recycling measures such as take-back schemes, reusing materials and leasing products to extend their lifetime.
At Herman Miller, recycled materials are now being incorporated into some key products from the beginning of the supply chain, such as ocean-bound plastic within our Aeron Onyx chair. Ocean-bound plastic is "mismanaged plastic waste" that is not being collected (or is unlikely to be collected) that is found within 50 kilometres of a coastline. We believe that this is a real example of delivering against the 'triple bottom line' metric. Not only does using ocean-bound plastic reduce incidence of coastal plastic (which helps the planet), it also reduces waste for local people and generates employment opportunities by bringing the local community more closely into the supply chain.
Measuring ROI of sustainability
Measuring ROI is vitally important for any business seeking to truly understand what factors are affecting their overall performance in any given area. But many companies struggle to objectively measure the impact of their sustainability decisions. For example, it is difficult to quantify exactly to what extent sustainability initiatives are influencing which companies consumers are choosing to spend with.
From a B2B perspective it is easier to determine how much impact sustainability measures have, because businesses often have criteria which need to be met before entering into a partnership or contract. Companies are seeking real-time, robust data to assess how their partners and suppliers are performing from a sustainability point of view.
Another important way to measure the ROI of sustainability choices is the impact on employees. Workplace design has a huge impact on employee wellbeing and providing an environment that is safe and representative of the company's wider sustainability goals is now an essential element in retaining and attracting employees.
Sustainable business choices
Organisations should be doing all they can to contribute to a more equitable and sustainable future for all – contributing towards sustainability goals is no longer seen as a 'nice to have'. Individuals and B2B buyers alike are much more conscious of their consumption choices and what businesses they associate themselves with – which has elevated sustainability to be on a par with other key business metrics such as price, quality, availability and so on.
While choosing products for the office is just one part of a holistic corporate sustainability initiative, visibly aligning a business to the wider values of its customers and employees is a positive move which also benefits the planet.