March 9, 2021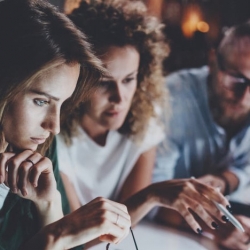 Until recently, the nature of business was widely predictable. Tried and tested operational methods enabled businesses to forward plan confidently based on what had worked before. Even before the cataclysmic events of the global pandemic,  the workplace landscape was shifting dramatically, with innovation, disruption, workforce and consumer expectations evolving at a pace. As we enter 2021, every business will need to rapidly adapt and evolve to survive and workforce agility will be a critical factor for that survival.
In Morgan Philips' 2019 global talent survey we reported that 85 percent of business leaders believed workforce agility was central to their business success.  My team at Morgan Philips Talent Consulting's subsequent executive briefing in 2020 'Agility: Unlocking the Potential of Individuals and Teams' projected that within five years businesses would need to operate one third faster to survive.
We couldn't have known when we started this project how critical agility as a working methodology would be during the disruption of the Covid-19 pandemic, or just how many hugely successful businesses would be left counting the cost.
Only the people within a business can make it agile
Over two years leading up to 2020,  myself and my team at Morgan Philips Talent Consulting decided to explore workforce agility, and how it could be developed to meet the demands of a changing commercial landscape. We tracked the broad commercial trends that have been impacting our clients and studied the behaviours in individuals and teams within those organisations. What was most likely to be a critical workplace challenge? Our work analysed the potential impacts of economic disruption, exponential technology change, consumer demands and changing workforce expectations. The resulting unique Agility Model was scientifically validated in December 2021.
Our research proved that a business cannot be agile; only the people within a business can make it agile. However much you invest in systems, processes and structures, it won't work in isolation. True agility comes  from the thinking and behaviours of your leaders, managers and whole workforce; it's what builds an organisation that can be nimble and competitive in your marketplace.
A wake up call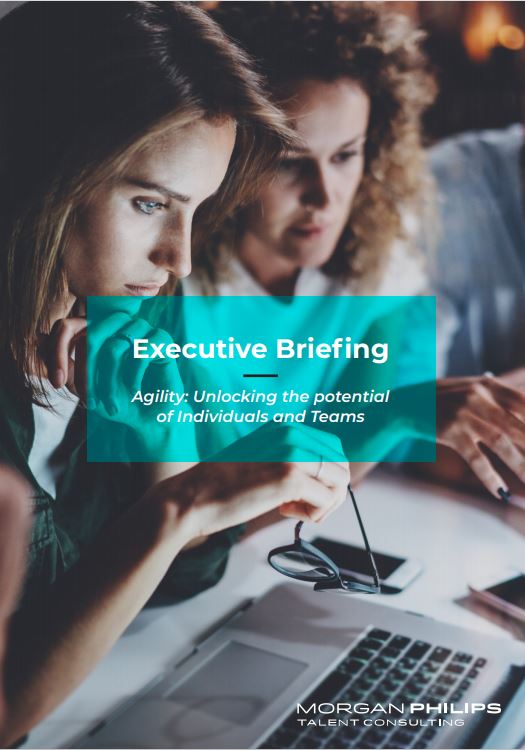 As a business, whether you have faced unforeseen demand or trade has dropped off a cliff, the last twelve months have been a wake-up call. The traditional plan and predict model of business strategy is and will likely remain progressively difficult to sustain. We need to have a 'sense and respond' approach to the business landscape – willing to stay alert to emerging opportunities and swiftly adapting themselves to pivot towards them. Agility as a way of working, and the ability to adapt and perform in real time will be one of the most critical factors for businesses, particularly as we come out of the pandemic.
We created the agility model to develop leaders that are able to flex and adapt plans to meet objectives; helping teams to see challenges as learning opportunities, rather than obstacles; and enabling individuals and teams to leverage their strengths to drive the pace of growth.
The model takes the concept of agility, with its many 'moving parts,' and provides a simple yet powerful way to approach it. It breaks down agility into three core aspects – people, performance and growth.
Embedding agility into an organisation is a complex area that needs a roadmap. We want leaders and managers to have a reliable tool that builds a common language inside their businesses, to drive the changes they need in their people.
The model itself has been designed to be agile, and has already proved itself as a successful partner to some of our clients' existing behaviour frameworks. We combine a robust psychometric diagnostic tool; 360 survey and business simulations to measure and nurture agility within leaders to deliver measurable results.
To find out more, and download the Morgan Philips Talent Consulting Agility Executive Briefing, visit Talent Agility & Organisational Agility | Morgan Philips UK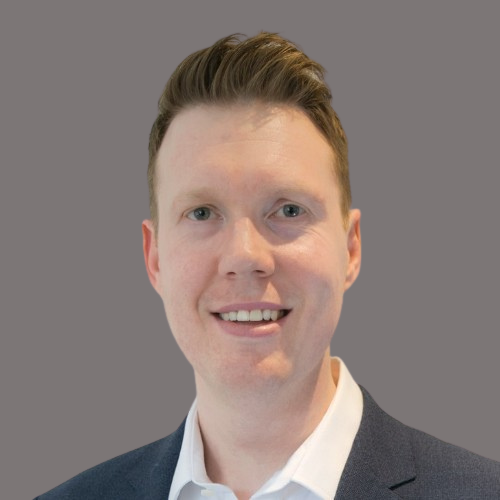 Dr Dane Poboka is Managing Director at Morgan Philips Talent Consulting, and part of a team of organisational psychologists and talent experts behind a recently launched model to help measure and develop workforce agility. The scientifically validated model delivers unique insight into workforce and talent agility and helps leaders and managers develop their people to meet the challenges of the new world of work