September 24, 2021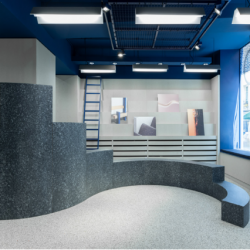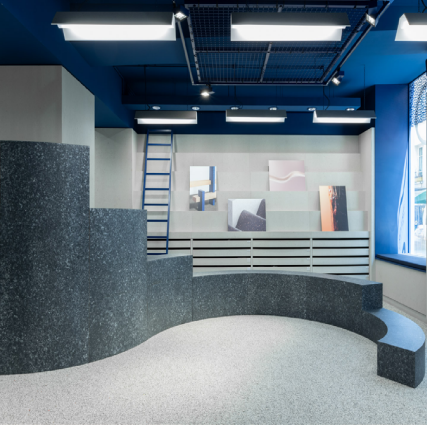 Since 2018, Tarkett and Stockholm-based Note Design Studio have developed their collaboration, with the longstanding commitment that there should be no compromise when it comes to design and sustainability. This progressive journey now introduces the latest edition of the PLAY magazine.
This magazine features a curation of sustainable and post-use recyclable Tarkett products, providing inspiration for architects and designers looking to make conscious choices for people and the planet, by using sustainable materials to create amazing spaces.
In PLAY the notions of Micro, Mezzo and Macro are introduced, to highlight the dialogue between materials and spaces. The notions look into each element of the production and design process in detail, from the composition of materials to connecting people and the environment, demonstrating how a material can contribute to making an inspirational space.
Featured in PLAY are several of Tarkett's circular products, recyclable post use, which were selected to illustrate each notion, such as iQ Surface, iQ Natural, DESSO Marvel, Excellence Genius, iQ Megalit
Florian Bougault, Art Director at Tarkett EMEA said "Together with Note Design Studio, we share a vision for embracing a wide range of influences to push the boundaries of Tarkett's collections. For this edition of PLAY, the studio has drawn inspiration from across our product families to bring customers closer to some of the most engaging materials in design and architecture."
Cristiano Pigazzini, Founder of Note Design Studio said "We wanted to draw inspiration from bonds as a design idea, to examine the things which hold not just design together but society. From the big picture to the things we can't see but know are there. PLAY runs through this thinking, beginning by looking at bonds at a Micro level, and the inspiration that comes from material exploration. We then journey onwards into Mezzo, where bonds take on a more decorative role and look at circular production that drives us progressively forward. And finally PLAY brings things into the wider perspective of Macro, combining the Micro and the Mezzo into vistas, landscapes and spaces."
REVERSE installation during Paris Design Week For the design festival, Tarkett developed a scenographic interpretation of PLAY, named REVERSE. The installation, which debuted at Tarkett Atelier during Paris Design Week, uncovered the processes of making and re-making through the exploration of materials and circularity, to offer visitors a truly immersive experience. The unexpected and creative display used Tarkett's range of groundbreaking recyclable materials to put the spotlight on Tarkett's ReStart take-back and recycling programme by reversing the making process to explore a fully circular material experience.
Tarkett Human-Conscious Design & Circularity This collaboration with Note comes as part of Tarkett's belief that interior spaces should support, inspire and connect the people that use them. This commitment to stand with present and future generations stems from the Tarkett Human-Conscious Desig philosophy, whereby Tarkett demonstrates its pledge to create flooring and sports surfaces with circularity in mind, that are good for users and for the environment.
Circularity is one of the cornerstones of forging a sustainably-focused enterprise, aligning with Tarkett's central idea of using less virgin materials and letting no valuable resource go to waste. Merging the idea of sustainability and beauty, the Circular Selection was created to introduce Tarkett's most sustainable flooring collections. Collections that are part of the Circular Selection are recyclable post-use, phthalate-free, good for people and planet – from iQ homogeneous vinyl to carpet tiles, linoleum and new printed vinyl materials such as Genius.
For more information on Tarkett's commitment to circular economy click HERE.