June 5, 2019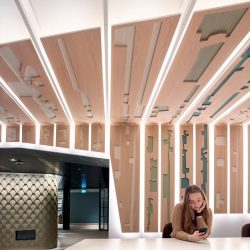 The world is changing. Often without sense, often at startling speed. I need not mention the 'B word'. However, there is a risk that this volatility leads to us being too negative. Today, too many people are speaking with too much pessimism. Don't believe me? Try logging onto Twitter. In these challenging times, we need to also look at our strengths and celebrate areas where things are going well. The UK's workplaces sector is one example of this, as shown by the BCO's recent regional awards.
The annual regional awards recognise the most exciting, innovative and thoughtful workplaces across the UK. Importantly, the awards don't just focus on London. There are five sets of regional awards spanning the whole country, producing winners from Dumbarton to Woking. While winning workplaces are as varied and as diverse as their locations, there are a few key trends that can be seen across the winners.
Representing local culture
We live in an era of global business. This has created great prosperity, but it also disrupted and unsettled many, with businesses accused of being rootless and uncaring. The best businesses are aware of this, they care about their local communities – and so do their workplaces.
KPMG Edinburgh (top) designed by Michael Laird Architects is a brilliant example of this. The office is not only finished to a very high standard, but also incorporates features that reflect the city's famed Old Town and its cutting-edge New Town. Combined, the effect has been described as the 'Future City' and deservedly won our 'Best Workplace Fit Out' category for Scotland. Most importantly, it is testament to how the firm cares deeply about the city and its people.
Green at their heart
As people care more and more about green issues, so their workplaces are evolving. This is most obvious when looking at the many offices that feature smart, sustainable design. Across the country, we recognised this in our 'Best Refurbished/ Recycled Workplace' category, with winners including Hanover's Manchester office and WSP's office at The Mailbox in Birmingham.
However, this year also saw the rise of a related green-friendly trend: biophilia. Biophilic designs have greenery designed into them, creating living, breathing workplaces full of plants. For an inspiring example, look at Durham's Janet Nash House, which won both Best Corporate Workplace and the Innovation Award at the North East awards thanks to its intelligent use of plants. Thanks to this design, occupiers can enjoy an office that is not only interesting to work in, but also benefits their health through improved air quality.
A bright future
The BCO's Wellness Matters research report outlines how daylight is a boon for worker wellness. It's therefore no surprise that many of the UK's best workplaces make it a key part of their design. Of course, designing light into a building can be challenging. Unlike countries like Denmark, there is no regulation that requires workers to be based near a window, so many end up seated in the dark depth of an office.
Edinburgh's 2 Semple Street shows how this challenge can be met. Awarded Scotland's Best Commercial Workplace, the office's redesign included adjustable floorplates. These ingeniously maximise natural daylight across the space and throughout the day.
Evidently, the UK's workplaces are in rude health. While our country's future might be uncertain, we can take heart from our workplaces. They are a timely reminder not only of our country's ingenuity and ambition, but a compelling reason for people to work and invest in our country. Clearly, they deserve to be celebrated.
____________________________________________
Richard Kauntze is the CEO of the British Council for Offices