November 20, 2019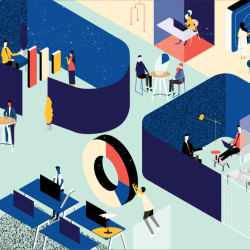 A near universal 91 percent of UK workers believe collaborative work with colleagues is essential for their productivity and creativity, yet nearly three-quarters of them work in traditional, enclosed spaces non-conducive to active participation and spontaneity according to new research from Steelcase. The report claims that team-based work is fundamental to modern businesses with 55 percent of the UK spending their time working with others but workspaces are actually unable to support collaborative work.
Not only do workers themselves believe that collaborating is important for innovation, but a lack of productivity has a direct effect on their financial wellbeing too, with stagnant productivity growth estimated to cost workers £5,000 in lost earnings per year.
Anisha Patel, Applied Research Consultant at Steelcase commented, "Despite the rapid transformation of the nature of team based work, most workplaces are still designed for a linear work process. Where teamwork was once like a running relay, it is now much more like basketball or football where instead of handing off a task to the next person in line; work is hyper-collaborative and interconnected every step of the way. In order to properly support our new ways of working and reap the benefits of collaboration, teams need to be able to adapt their workspace to their needs. A workspace that empowers teams to innovate is crucial for UK businesses to remain competitive and turn the tide on stagnating productivity."
The research claims many workplaces do not support team-based work; it found that 71 percent of people in the UK said they work in traditional spaces and 75 percent said they work in enclosed rooms. Additionally, 81 percent of collaborative work in the UK is scheduled, and only 19 percent of respondents say their collaboration is at least somewhat spontaneous. And yet, 91 percent of UK workers believe working with others is essential to creating new and better ideas.
Teams are also being hindered by a lack of access to the right tools and information they need to succeed. Three quarters of UK workers are unable to contact the right people required, 72 percent don't have access to the information needed in real time and only 37 percent of non-C-suite employees are provided with the interactive digital devices they need to collaborate effectively.