November 3, 2023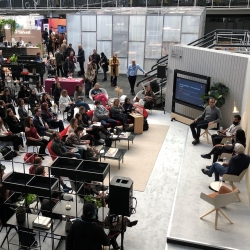 Following on from successful shows in both the UK and the Netherlands this year, Workspace Design Show is pleased to announce the first names to be added to the speaker programme for its London 2024 show. Held from 27-28 February 2024 at the Business Design Centre, Islington, the event will feature an impressive mix of senior professionals from architects and designers to developers and end users, who will come together to discuss the most pressing issues facing the workplace design community now and into the future.
Confirmed speakers so far include Helen Berresford, Head of ID:SR, Sheppard Robson, Golnaz Ighany, Sustainability Director, BDP, Collin Burry, Design Principal, Gensler and Oliver Hall, Partner –  Architecture and Sustainability at Make Architects. Representatives from occupiers include Louise Sheppard, UK Head of Workplace Services & Social Sustainability, Zurich and Sue Glew, Programme Director, The Better Workplace Programme, British Telecom, and Neil Usher, VP Places, Sage, with other highly-experienced industry professionals including Guzman de Yurza, Global Head of Workplace Strategy Capability, JLL and Sally Marshall, Director, Turner & Townsend.
The speaker programme will delve into the most urgent topics confronting the sector. These include The Holy Trinity of Culture, Space & Opportunity; Exploring the reality of neurodiversity, inclusivity and equality; AI or die? Using AI in workplace design to enhance creative output and generate innovative ideas; and Designing a workplace that meets cross generational needs.
Workspace Design Show 2024 will again feature four different talks programmes, featuring 120 speakers. The Workspace Design Talks will be exploring the latest trends and insights in workplace design, strategy and culture, while the Sustainability Works programme will also return for next year's edition. This stream of discussion will again bring together a selection of key figures behind the workplace market's leading sustainable initiatives, projects and product developments.
The FIS Conference, a not-for-profit representative body for the £10 billion finishes and interiors sector in the UK, will once again take place at Workspace Design Show, providing a platform for the latest industry thinking from the finishes and interiors sector.
The Occupiers Forum, meanwhile, will provide 'The View from HQ', giving that crucial perspective from the occupier side of the workplace design equation, as well as providing insights into what employers are doing to create an engaging workplace experience.
Once again, Workspace Design Show will gather together leading architects, designers, real estate professionals, tenants and other industry experts to exchange their insights around the world of workplace design.
Workspace Design Show 2024, 27-28 February 2024, Business Design Centre, 52 Upper St, London N1 0QH