September 25, 2023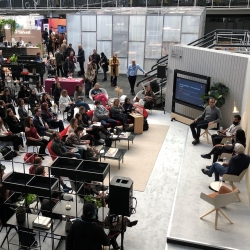 Workspace Design Show, the leading trade show bringing together the UK workplace design community, returns to London's Business Design Centre for its eagerly awaited third UK edition from 27-28 February 2024. At the 2023 event, visitor number increased by an impressive 75 percent year on year with exhibitors from over 20 countries showcasing innovative and transformational workplace interiors products over the two days. Building on this success, over three quarters of stand space is already booked for 2024.
The organisers of the Workspace Design Show have unveiled an array of exciting plans for the upcoming February event. This year, the show will revolve around the theme of Bloom: Exploring the thriving ecosystem of work life. One of the standout features will undoubtedly be the raft of collaborations with renowned architects' practices, promising an unforgettable experience for attendees.
Gensler will be designing the Design Talks Lounge, BDP will be curating the Insights Lounge, both of which will be sponsored by Hunters, and tp bennett will be responsible for creating a experiential entrance design. Workspace Design Show will be the place in London for architects, designers, occupiers, developers, consultants, coworking companies and fit-out companies to explore the latest industry trends, see the latest products, and find inspiration in the thought-provoking talks programmes.
Commenting on the last edition of Workspace Design Show, Gurvinder Khurana, Director, M Moser Associates said: "I would highly recommend attending the show next year, it is a
brilliant chance to learn and to meet many people through a shared interest in the design sector."
Natalie Smith, Principal, Planning and Strategies, London, Perkins and Will added, "Highly recommend – a show that brings the entire industry together; a great place to network.