January 28, 2020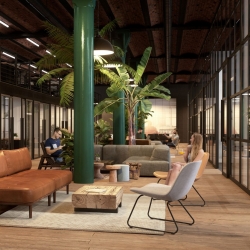 An 1860s warehouse located in the original Granada Studios estate in Manchester city centre has opened its doors as a coworking space for small and medium businesses. Bonded Warehouse, managed by All Work & Social, part of Allied London, includes work and social spaces on all six floors, a space for wellness and fitness, event spaces, a brewery and tap room, gin bar and 24-hour coffee lounge for collaboration and socialising.
The coworking development is the latest space to open in Manchester's Enterprise City, a 2 million sq ft tech, media and cultural cluster. The warehouse houses 10,000 sq ft of studio workspace, 66,580 sq ft of workspace and 12,760 sq ft of retail and leisure space.
Bonded Warehouse will also be home to Exchange, a new programme funded by the Department for Digital, Culture, Media & Sport and supported by Manchester City Council. The programme's mission is to support 2,000 individuals launching tech start-ups by providing subsidised, flexible workspace and access to workshops, events, a digital academy and other resources over a 15-year period. Bonded Warehouse is managed by All Work & Social, part of Allied London.
Tanya Grady, Head of Partnerships at Enterprise City, said: "The launch of Bonded Warehouse is the latest in a series of exciting developments for the Enterprise City district. Our vision is to create a new tech, cultural and media cluster in the heart of Manchester city centre, combining all the elements that a modern business, or entrepreneur, needs to establish itself, and scale. The new workspace and leisure destination will be a vibrant ecosystem for contemporary commerce, and includes space for work, collaboration, learning, wellbeing, fitness and socialising. It is the latest piece of the cluster to open for business, as we continue to create an investable city in the heart of Manchester. We are also continuing to nurture start-ups and foster entrepreneurialism at all levels by launching Exchange, a unique DCMS funded programme, within the tech and digital industry, which will attract innovators, creators and trailblazers."