April 12, 2019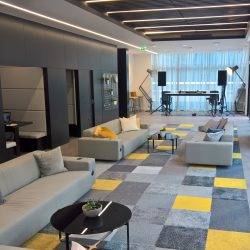 The UK's regional cities are competing harder than ever with London to become the location of choice for the tech sector. According to CBRE's report 'Tech Cities:  Exploring tech hotspots in the UK regions' Manchester ranks number one amongst the top 10 UK tech location outside of London, but Scotland features highly with Glasgow and Edinburgh in second and third position respectively. Birmingham has risen three places, from seventh to fourth position but smaller conurbations such as such as Reading, Oxford, Cambridge, Southampton, Brighton and Bracknell also feature, based on their concentrations of tech employment, tech businesses and high education levels. More cities are competing for the very top spots in the ranking
Emma Jackson, Associate Director, UK Research said: "Evidence shows that, beyond London, a number of regional centres also contain a critical mass of talent necessary to compete successfully in this sector. There are many other tempting reasons to draw creative industries businesses to the UK regions such as attractive quality of life and favourable cost of living. Indeed, given the growing cost of higher education, and the cost of living in the capital, the large regional centres are increasingly proving a compelling proposition for graduates and employers alike".
Following CBRE's inaugural study, 'Creative Regions' study launched in 2017, the report provides a fresh update of the CBRE top 25 UK destinations beyond London for tech businesses. By applying the same methodology as the original ranking, various shifts have been identified in the top UK cities' creative and tech profiles over the last 2 years.
All markets analysed were scored and ranked according to a wide range of locational pull factors for tech businesses, such as level of education, concentrations of tech businesses and employment, cost of living, cost of office space and wage levels.
The UK's regional cities are competing harder than ever with London to become the location of choice for the tech sector.
Said Ashley Hancox, Executive Director, Head of Office Advisory & Transaction Services, UK: "Creative industries are more important to the UK than ever. From tech to media and telecoms, the sector has flourished since the end of the financial crisis, and grown at a rate that cannot be ignored.
"Led by London, UK towns and cities are a prominent force in the European technology ecosystem, from an employment, leasing and talent perspective. The CBRE top 25 UK destinations (beyond London) identified in our 'Tech Cities' report all possess a fusion of the key ingredients required by this sector. As UK cities look to the future, they will need to continue to evolve to offer the right mix of incentives to attract the talent required to lead creative and tech industries in the future."