September 18, 2019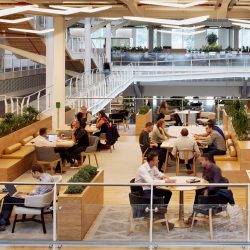 A recent report from AWA, Global Workplace Analytics and Haworth identified that over half of those surveyed in 130 organisations work in assigned positions. What was more interesting – than the report was the positioning of the key findings – the message being that in many respects organisations were denying their people the full benefits of an agile (or activity-based – we'll use agile here) workplace, the blunted old farts.
They 'still' work in assigned positions. Here's a declaration – I've created many agile workplaces, and run change programmes for each. I've enjoyed doing it and seen positive reactions and benefits.
The research lead claimed that 'workplace innovation is a litmus test for management quality and leadership'. This is somewhat true, but a fantastic place to work does not have to be innovative, it just has to be fantastic. That could mean using tried and tested ideas, technology that is known to function effectively, and work settings people feel comfortable and familiar with. The approach can still very much be 'about people' and not real estate. Some organisations may see innovation in workplace as beneficial, but it is not a litmus test of anything other than a desire to innovate for a purpose that has (hopefully) been envisioned and piloted.
There are at least ten clearly definable approaches to workspace planning in common and occasionally-justifiable use, of which agile is merely one. In certain cases an agile workplace is the right approach, but in others it is not. Given Leesman found that 17 out of the 24 workplaces awarded its Lm+ accreditation in 2017 were open-plan but had assigned desking, there is some suggestion that agile is not 'the' panacea.
The table below suggests what the agile workplace is not – yet what it can be. The goal is to create a fantastic place to work that is appropriate to the organisation. If that is 'traditional' corridors with individual private offices, if it is appropriate and benefits its people, and they can be at their best every day, that's commendable.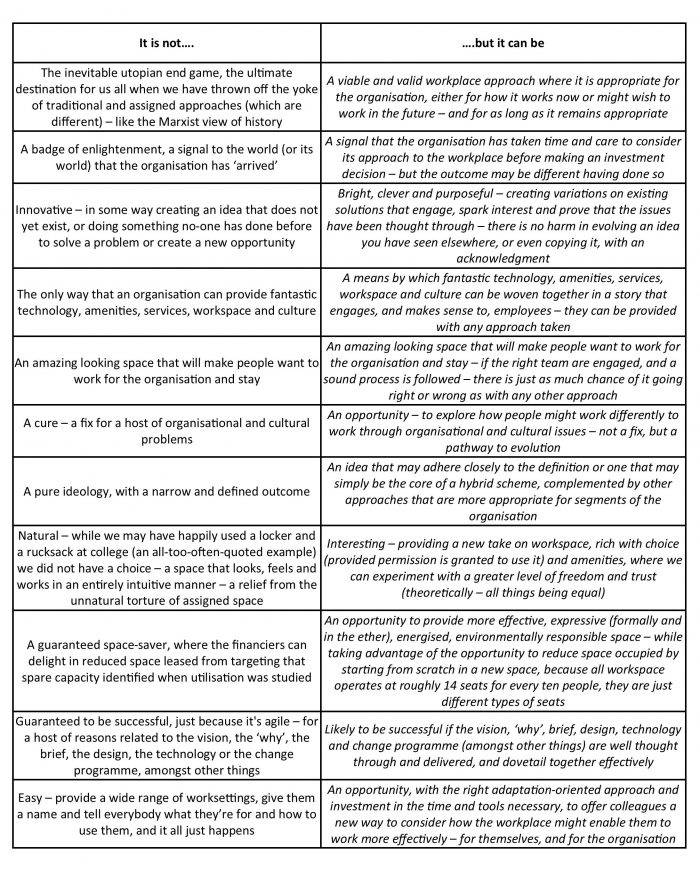 Everyone deserves a fantastic place to work. Sometimes that's an agile workplace. Sometimes it's something else entirely, that works. The only right answer is the one that's right.