April 1, 2020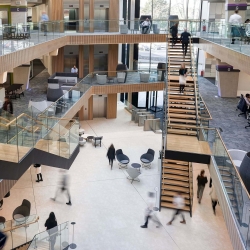 Innovation in the commercial property market is the driving force behind a revolutionary new approach to the design and fit-out of office space from Modus. Tenant-Ready is a solution aimed at both landlords and operators, to deliver pre-fitted or fitted-to-demand workspace specifically for coworking spaces, serviced offices and other forms of flexible workplaces in which fit-out is not procured by tenants and occupiers.
Tenant-Ready offers a wide range of services to deliver plug and play solutions, including design, fit-out, furniture and interior architecture alongside the full integration of workplace technologies, maintenance and finance. It draws on the experience and expertise of Workplace Futures Group working with clients over many years, including as the UK's market leader in pre-fitted space, coupled with insight into the changing world of property to deliver an entirely new solution to the market.
"We're aware of just how the fast the world is changing', explains CEO Toby Benzecry. "For occupiers, it's never been more important to retain flexibility in the way they use space, their use of capital and the lease terms they take on. The market has responded with new forms of tenancy and bold new models such as coworking. A service like Tenant-Ready, which draws on our existing unparalleled skills, is the perfect solution for this new era.
"With the pace of change in the market, by 2025 a third of office tenancy take-up could be to pre-fitted, or fitted-to-demand, office space. So, it's essential that landlords, agents and operators have access to an offering that can help them deliver this service to their tenants.
"Tenant Ready will help these businesses to let their office space more quickly and responsively, at lower cost and over longer periods of time. To help them in this regard, we apply our full range of upfront consultancy service, tailored to their needs and backed up by a full range of services."
What is Tenant Ready?
The Tenant-Read programme has been developed over many years and extends well beyond design and build.  Its objective is to help clients let their office space faster, more cost effectively, and for longer periods. Each client is unique and the programme aims to tailor-make its approach. However, there are activities common to most projects:
Feasibility and consultancy – Tenant-Read can provide full due diligence on the building and use our data services to give an insight into pre-fitted demand in that area.  All this helps to define the most appropriate product for the local market in terms of unit size, design, features and price point.
Dedicated design services – the Tenant-Read design team specialises in creating outstanding spaces, tailored to the building, operator or tenant. It includes experts in planning highly efficient spaces, maximising occupancy whilst maintaining comfort and marketability. It also recognises that our fit outs may live through multiple tenancies, so is designed for flexibility and longevity. The process includes early production of 3D photo-real images which can also be used for pre-marketing.
Technology integration – plug-and-play office space needs to do exactly that.  Tenant-Ready provides everything from internet connectivity through to the local network through WIFI and wired LAN. Furthermore, Tenant-Ready™ will look after audio visual, security systems and, if required, can include a range of sensors to monitor environmental conditions and usage.
Low cost, ultra-fast build-out –Tenant-Ready delivery teams learned their trade fitting out for the most demanding coworking clients. It works on the understanding that speed and cost are essential components of the offering and provides complete peace of mind; always delivering on time and on budget.
Marketing and graphics support – Tenant-Ready will help in any way it can to market space, starting with visuals and walk-throughs and extending to a range of added-value services such as brochure design and website build if required. The graphics team can also work with incoming tenants to provide customisation options to brand the space as theirs.
Logistics and support – the Tenant-Ready programme includes options for storage and logistics for rapid customisation and provides refresh plans for taking the space back out to the market at the end of a tenancy.  If required it can provide a comprehensive maintenance, repair and dilapidations package.
Finance – where there are competing demands for capital, Tenant-Ready can arrange rentalised financing for the entire fit out and furnishing, including end-of-life removal if necessary.  In these situations, clients can have complete transparency of cash-flow and predictably of downstream costs.