April 1, 2020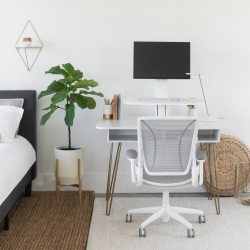 Humanscale, the designer and manufacturer of high performance ergonomic products, has built its business by focusing on the health and wellbeing of workers around the world. In these unprecedented times, where employers and employees are unexpectedly working from home full time, Humanscale's team of board certified ergonomists is offering a new digital service that provides online ergonomic consultations, to ensure a healthy and comfortable home arrangement. ErgoIQ LIVE is a first-of-its-kind online ergonomic consultation tool that provides online, on-demand access to Humanscale's skilled network of certified ergonomists.
ErgoIQ LIVE allows professionals to upload photos of their workstation and take part in an online assessment that can optimise their work setting in 30 minutes or less. During the consultation, which can be on video or voice-only, a Humanscale ergonomist will offer guidance on the proper desk arrangement that is specific to their body dimensions, identify any potential equipment-related problems and provide postural advice and behavioural modification.
Following the consultation the ergonomist will provide a summary report of their recommendations and Healthy Workstation Guidelines.
In further efforts to support those transitioning to a work-from-home lifestyle, Humanscale has offered a 20 per cent discount across its work-from-home solutions.
Whether the place of work is an office, a kitchen table or a desk in the bedroom, Humanscale has almost 40 years of knowledge and leadership of promoting wellness in the workplace and can help businesses navigate through the information overload.
It is vital that workers have the same optimised user experience during this challenging time,  wherever they may be located,  and Humanscale is here to support businesses and individuals.