May 16, 2019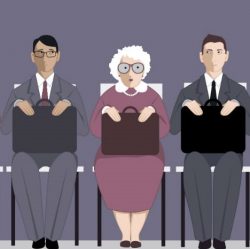 More than a third (37 percent) of employees aged 45 and over believe that age discrimination is an issue where they work, according to a new analysis from Aviva. Those aged 55 to 59 feel this most strongly (41 percent). One in five (19 percent) feel younger colleagues are favoured over older generations, while 19 percent believe their age has become a barrier to career progression and development. However, over half (53 percent) of employees aged 60 and over are not ready to retire, increasing to 61 percent for people still working past the age of 65.
The study among employees and employers highlights that working for enjoyment and the benefit of social interaction increases with age. Those who are still working in their 60's are more likely than those in their 40's and 50's to be motivated to do so because they enjoy their job, or for the social benefits of interacting with colleagues and others in the workplace.
Table 1: Attitudes to work in mid-life among those who are still in work
| | | | | | |
| --- | --- | --- | --- | --- | --- |
|   | 45+ | 45-54 | 55-59 | 60-64 | 65+ |
| Feel they are not ready to retire | 45% | 42% | 43% | 49% | 61% |
| Motivated to continue working because they enjoy their job | 36% | 34% | 35% | 35% | 57% |
| Motivated to continue working for social interaction | 21% | 19% | 19% | 24% | 31% |
| Feel there is age discrimination against older workers in their organisation | 37% | 38% | 41% | 37% | 25% |
Source: Aviva, 2019
Workers in mid-life have typically amassed significant skills, experience and knowledge, creating 'muscle memory' that can be invaluable to their employer. However, the research – which examined employee and employer attitudes towards ageing in the workplace – highlights a potential 'brain drain' unless businesses do more to support this growing demographic.
"The mid-life population offers invaluable skills and experience that companies are potentially missing out on"
While the majority (73 percent) of workers in their 50's and 60's feel they share invaluable skills, experience and knowledge with colleagues, Aviva's findings suggest that 16 percent of mid-life employees feel this is not valued by their employer.
Many employers share employees' concerns about age discrimination. Almost a fifth (19 percent) of employers said it was a main concern of theirs while 20 percent said they were concerned about how they will respond to the challenge of an ageing workforce.
Companies missing out on the talent and potential of an ageing workforce
Aviva's findings claim to highlight the need for companies to put the right support in place to ensure employees in mid-life feel valued at work.  There are currently a record 10 million workers over the age of 50 and in the next decade, this population is forecast to grow to represent more than a third of all workers in the UK.
To help equip its own staff with the tools needed to embrace fuller working lives, Aviva has launched its 'Mid-Life MOT' this month. Following a successful pilot in 2018, the programme will help encourage its people to consider aspects of their work, wealth and wellbeing from the age of 45.
Face-to-face seminars across Aviva UK offices will be complemented by an MOT guide, direction towards free online Aviva and government-backed resources, and a free 30-minute consultation with a qualified financial adviser.
The aim is to prompt Aviva employees to begin making plans to support the next phase of their work, wealth and wellbeing, and identify practical steps they can take to support a fuller, more rewarding working life.
Lindsey Rix continues: "It's all too easy to get caught up in the essentials of day-to-day life and potentially lose sight of the bigger picture. At Aviva we want to help and encourage our people at this stage of their lives to start thinking about their future work, wealth and wellbeing so that they can take practical steps to enable them to lead a fuller working life. This age group has a huge amount to offer and we want to ensure we're supporting their ambitions."