June 11, 2014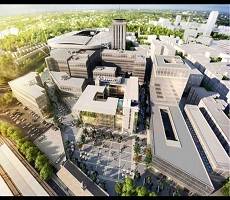 The BBC is to move its main headquarters in Wales to a new, purpose-built broadcast centre in Cardiff city centre by 2018. BBC Cymru Wales, currently based in Llandaff in north west Cardiff, says it plans to relocate to a new 150,000sq ft. development in Capital Square – on the site of the current bus station at the northern entrance of Cardiff Central rail station. The decision follows a detailed three-year study prompted by the ageing facilities at the current base in Llandaff and the pressing need to modernise the outdated and unreliable technology. Options to upgrade the current site were ruled out as they were costlier, more disruptive and would have taken longer to deliver. The new centre, which is being designed by Fosters & Partners, will be roughly half the size of the current premises and less expensive to run. The announcement of the BBC's preferred development site – which has been approved by the BBC Executive and BBC Trust – is subject to concluding legal agreements over the coming months. The sale of the current sites on Llantrisant Road in Llandaff will help fund the new development.
The BBC's decision is also expected to help kick-start one of the capital's biggest urban regeneration projects in recent decades, with the city developing a major new masterplan for both the northern and southern sides of Cardiff Central station.
Rhodri Talfan Davies, Director of BBC Wales, said: "The plans for Capital Square don't just make excellent financial sense, they are groundbreaking too. They provide a once-in-a-lifetime opportunity to get much closer to our audiences, to help transform part of our capital city, and to work with a wide range of partners to strengthen Wales's reputation as a world-class creative community.
"The new broadcast centre promises to be an exciting new home in a remarkable location right at the heart of the action. The public rightly demands the best from the BBC – and this development will at last give our programming teams the tools, the technology and the facilities to serve our audiences for decades to come."
The new centre is part of a development by Cardiff-based Rightacres Property and will house over 1,000 staff – including BBC Wales, BBC Finance and BBC Pensions staff all currently based at Llandaff. The Welsh language broadcaster, S4C, has already announced it plans, in principle, to share some broadcasting services with the BBC at the new centre.
BBC Wales has confirmed the new broadcast centre will be expected to meet the UK's top environmental standard (BREEAM outstanding) – a benchmark already achieved at its Roath Lock drama studios in Cardiff Bay, which opened in 2011. Achieving value for money has been a major priority in developing the proposals for the new broadcast centre.
By exploiting new technology and new ways of working, the new centre will provide a modern flexible environment that reduces the reliance on more traditional broadcast infrastructure and will include:
50% approx. overall reduction in floorspace compared to current site in Llandaff
70% approx. reduction in traditional television studio floorspace
30%+ est. reduction in annual energy costs
60% potential reduction in home-to-work car journeys
60% approx. reduction in car-parking spaces
100s of jobs created during construction phase
50,000 visits to the new BBC centre each year by members of the public