June 13, 2019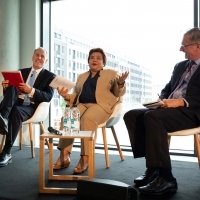 AI and its transformational effect on the global business landscape was the dominant theme on day one of the UK Asia Tech Powerhouse Conference. Transforming urban mobility thanks to rapidly growing cities, and how Asian cities are leading the march towards a digital future also featured in the first of the two-day event, with influencers from across trade, investment and technology, including Singaporean entrepreneur Annabelle Kwok and Mark Purdy, Accenture's Group Chief Economist and Managing Director at Accenture Research.
A panel of experts went on to have a lively discussion on the landscape of technology in the 'Digital Asia: a tech overview' seminar. The panellists each agreed that from fintech and AI to cybersecurity and smart mobility, Asia is at the centre of many exciting innovations driving the tech world today. James Kynge, Global China Editor at the Financial Times, provided background on why the region is leading the sector: "China has more unicorns than the US, proving its vibrancy as a region for tech start-ups. This out-pour of entrepreneurial energy is showing no sign of slowing down, as in the first quarter of this year, China doubled the value of the rest of Asia's existing unicorns."
"AI is the biggest disruptor to the global economy since the last industrial revolution"
He continued: "That said, the 'tech trade war' is now pushing the capital that wanted to fly into China into other places causing a huge increase of activity in South East Asia. The place I would suggest everyone watches closely is Vietnam, because while the individual deal size is quite small at the moment, a lot of seed money is flowing into the region and I expect to see big things coming out of the country in the near future."
Annabelle Kwok, Co-Founder of Neural Bay then took a 'Closer Look at AI in Asia' during her presentation. Kwok talked the about the current growth of the technology behind AI and how it is shaping the new world in which we live, holding up China, Indonesia, and Singapore as examples of regions that are excelling in this area. "Each of these governments are taking a proactive approach to developing very different AI strategies, though the common use at the heart of modern AI, is to harness huge amounts of data," she said. She added that further collaboration and data sharing could help enable improved strategic decision making by governments.
While discussing AI's role in the global economic order, Mark Purdy, said: "The self-learning and self-improving nature of AI is a major factor contributing to its disruption because in all the tech that we've had so far, the improvements have been made by humans, but AI is a game changer. The challenge is going to be adopting this technology, because the future will be humans and machines working together – it will be the Fifth Industrial Revolution. We are currently thinking of AI at local level, but we shouldn't ignore that there are potentially huge societal benefits as well, for education and the environment there is a big positive there that we should keep at mind."