December 6, 2018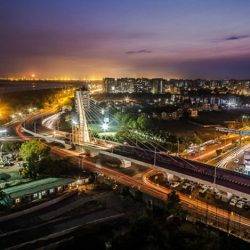 Oxford Economics has published its annual Global Cities research report projecting the shifting landscape of the world's leading cities from 2019 to 2035. It examine which major cities will be the urban superpowers of the future and which are poised for the most rapid expansions of their economies, populations and business heft. Its main finding is that Asia's cities, especially those in India such as Surat (pictured) and Agra are making huge strides, although New York, Tokyo, Los Angeles and London stay as the metropolitan superpowers. New York maintains pole position while Tokyo falls below Los Angeles and London in the ranking. 
Key findings:
o Cities around the globe will continue to gain ever-greater importance to the world's economic prospects, and will dominate growth in global GDP. While global economic output will rise by 2.6% a year, or a cumulative 54%, from 2019 to 2035, the world's 780 major cities will grow by 2.8% a year – a cumulative 60% over the period.
o The economic power of Asia's cities is set to outstrip Europe's and North America's combined GDP in just eight years' time: by 2027, the combined GDP of all Asian cities in our forecast will for the first time exceed the combined GDP of their Western rivals.
o Asia's urban ascendancy will continue to gain in importance to 2035, when the combined GDP of its cities will be 17% above the output of all cities in either North America or Europe.
o But the rise of Asia's urban economic importance will not displace the world's top four city superpowers. New York will remain the world's largest urban economy in 2035, and retain its status as the top finance and business services centre.
o Tokyo and Los Angeles, respectively will also retain their spots as the second and third largest city economies, while by 2035 London will be tied with Shanghai in fourth place. Paris will drop to seventh place, having been overtaken by Beijing as well as Shanghai.
o Within Asia, China is a key force reflecting its rapid urbanisation, with Chinese cities making the largest contribution to combined growth of the region's urban economies.
o By contrast, India's cities remain small in GDP terms but dominate our ranking of the world's fastest growing cities to 2035, taking 17 places in the top 20 cities by growth rate. The overall fastest growing city in the world to 2035 is projected to be India's Surat, in the west of Gujarat, where we forecast 9.2%. Agra, with 8.6% projected growth is in second place. Other rapidly growing cities include Bengaluru (Bangalore), Hyderabad and Chennai. Outside of India, Cambodia's capital Phnom Penh is the fastest growing city.
o Among the world's business and financial centres, New York will remain top of the league by 2035, we project. Los Angeles' vibrant economy helps it to climb to second place as a world business and financial centre, overtaking London. But the UK capital also moves up a place in the ranking from fourth to third, thanks to robust expected financial and business services growth forecast to average 2.5% a year in the 2019-35 period.
o While by 2035 Tokyo will remain the world's second largest city economy after New York, we project it will drop from second to fourth place as a financial and business services centre as the sector is forecast to grow at only 1% a year on average – less than half the expected pace of the sector's growth in LA.