August 1, 2023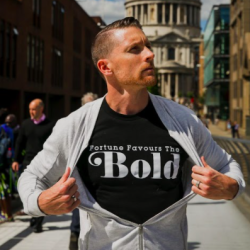 Caleb Parker's award-winning #WorkBold Podcast returned for an industry-leading ninth season, which took the podcast to over 100,000 downloads (117,000 at the time of publishing this article) with an audience from 90+ countries. The only podcast dedicated to Space-as-a-Service (SPaaS), #WorkBold Podcast is in the top one percent of business podcasts globally. Its host, entrepreneur Caleb Parker, is the founder of Bold – a joint venture with NewFlex.
If you're one of the few who hasn't downloaded season 9 yet, the following paragraphs detail the TL:DR version. Recorded live at MIPIM for a second year in a row, #WorkBold Podcast season 9 zeros in on the recent Urban Land Institute (ULI) Europe report released in partnership with the Instant Group. Bridging the occupier-landlord gap for the future of workspace reveals findings from a collation of surveys and roundtable discussions engaging 285 landlords, occupiers, and advisors.
The first episode features Lisette Van Doorn, Chief Executive for ULI Europe. "I was thrilled to interview Lisette to discuss the report," says Parker, of the conversation that sets the stage for his interviews with leaders of commercial real estate. "Her passion is obvious and the data from ULI is compelling." #WorkBold Podcast season 9 is aptly entitled Bridging the Gap.
The office evolution
Exposing a startling truth, the ULI report reveals: "Offices are here to stay, but 86% of office customers say their current portfolios no longer align with their business strategies and objectives. Customers want more from their offices and expect to move from static long leases to more dynamic ways of utilizing space," Parker summarises.
Chatting about "why there's a growing gap between supply and demand for office real estate, and what steps supply needs to make to prevent assets from losing value," Van Doorn explains how "companies [need] to work out what employees want from the office, and for landlords to go with them on their journey." The office isn't going anywhere, but "companies want something different, employees want something different to be drawn to the office because if you force them they won't go."
Intrigued to hear that employees at JMW Solicitors LLP are back in the office 3-4 times a week, in what might be a pursuit of "osmosis and social interaction," Parker speaks to Thomas Pearson, Head of Real Estate Commercial at JMW, about the office evolution, which becomes a recurring point of discussion throughout season 9 (episode 3).
NorNorm CCO, Douwe Dirks, talks about the cost-saving hassle-free benefits of subscription office furniture – which is clearly a big part of the Space-as-a-Service model going forward (episode 10). In episode 9, Sneha Shah, founder and CEO of Curaty, shares how art has played a significant societal role throughout history, as she explains how art now inspires workplaces. Daniel Chang, Managing Director and European Head of ESG at Hines, talks about measuring social impact and creating sustainable communities, with Parker mentioning how Space-as-a-Service can support social impact initiatives for communities (episode 2). Through the lens of these interviews, the workplace revolution reveals that employee needs matter.
Flex, service, and the hotelisation of office real estate
'It looks like the trend is companies are leaving their old footprints behind and going into assets or new footprints that are smarter, sometimes smaller…that allow them to flex up and down, [that have] more amenities, more hospitality and service from a well being perspective for their employees," describes Parker (episode 3).
The conversation around flexibility and on-demand, which ULI deems "a hot topic," continues. In episode 5, Dan Hyde, Development Director at MEPC Limited, highlights how adaptable shared amenities can relieve companies from putting all these services into their own footprint, for instance, by converting wellness and fitness spaces into board rooms and private dining areas, on-demand.
The ULI report advises landlords to learn from assets "that consider fluctuating operational levels and highly flexible customers." Enter the hotelisation of office real estate, where the lines between asset classes blur. "Investors are getting used to hybrid products," says Illka Tomperi, Partner & COO at CapMan Real Estate, whilst throwing light on the benefits of having mixed-used offerings, such as hotel and office services, under the same roof (episode 4).
Valuing ESG-forward assets
The insightful conversations throughout season 9 consistently shift from the visionary Space-as-a-Service concept to important dialogue around energy efficiency. It boldly brings to the fore that the office real estate sector must reach net zero targets by 2050, or else risk getting left behind. It's a significant challenge that the industry faces right now. ULI reports that the current state of the market sees "so many assets [that] are not up to standard and will risk being discounted or worse, stranded."
Van Doorn makes the call for stakeholders 'to work collaboratively. You should not be competitive about climate change because if we don't tackle [it], there is no real estate left.' This collaboration is facilitated by the ULI-led C Change initiative, which launched in 2021, "to mobilize the European real estate sector to decarbonize."
"90% of buildings that are here today will still be here in 2050," says Khadija Nadi in episode 8, CEO of DeltaQ (headline sponsors of #WorkBold season 9). The solution simply isn't knocking down and rebuilding, unless you can "prove that you're making a sustainable decision," explains Peter Fisher, Director at Bennetts Associates, in thought-provoking episode 6 about repurposing to reduce carbon emissions.
Investment in energy efficiency is necessary to secure real estate for future generations. 'We seem to only focus on the short-term valuation, the cash flow, the yield. It's more than that,' says Van Doorn. Episode 7 covers WRE London's admiral approach to buying and transforming buildings into ESG-friendly assets. Sascha Lewin, CEO at WRE London, stresses that ESG is no longer a tick box or a nice-to-have, "it's now at the heart of the industry. Occupiers want it, investors demand it."
ESG was a major talking point at this year's MIPIM. A short clip features Morgan Pierstorff, Business Development Director at NewFlex, recounting her staggering 870-mile cycle from London to Cannes with 83 other MIPIM attendees, exemplifying their commitment not only to the planet but to industry collaboration as well.
Bridging the gap for the future of office real estate
Parker stresses that now is the time for savvy investors to make strategic moves to integrate more hospitality-led flexible and on-demand services, invest in repurposing office stock so that it meets ESG standards, and work towards reaching net zero goals. By collaboratively bridging the gap to meet occupiers' demands and join them on their ever-evolving journeys, landlords can make a significant contribution to the future of work, as well as the future of office real estate.