July 24, 2018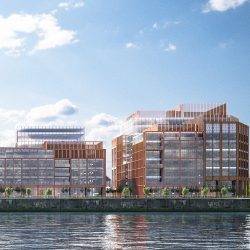 Barclays has announced plans to develop a new campus at Buchanan Wharf, Glasgow, which will provide what it claims is a state-of-the-art workplace for the bank's functions, technology and operations teams. The aim is to create a working environment that will 'help the bank deliver outstanding services to customers and clients by fostering innovation and collaboration'.  Barclays has agreed to purchase the campus development from Drum Property Group Ltd and is currently working with them to finalise the design of the new facility as part of the wider Buchanan Wharf development. It is expected that, once completed, the campus will be able to accommodate up to 2,500 additional roles, doubling Barclays' current workforce in Scotland and making the bank one of Glasgow's biggest commercial employers.
The Barclays deal at Buchanan Wharf is claimed to be one of Scotland's biggest ever construction projects. When complete, the Clydeside site will provide more than a million square feet of prime Grade A office space, residential accommodation and a mix of local amenities and landscaped public spaces.
Welcoming the Barclay's deal, Graeme Bone Drum's Group Managing Director said: "Buchanan Wharf will set a new benchmark for large scale development in Scotland – and we are delighted to have secured Barclays new campus at its heart. The Barclays deal is a significant statement of intent, heralding an exciting future for the rest of the development. With prime office space plus an exciting mix of homes, local amenities and open public spaces, Buchanan Wharf will be a stimulating and attractive environment in which to work, live and to visit. It will transform not just this neglected part of the waterfront but the entire city centre of Glasgow, once again placing the Clyde at the heart of the city's economic and cultural regeneration."
Paul Compton, Chief Operating Officer at Barclays, said: "The Glasgow campus at Buchanan Wharf will be a flagship project for the bank, which builds on Barclays' long history in Scotland and clearly demonstrates our commitment to supporting the UK economy.  This is a fantastic opportunity to deepen our close ties with local communities and academic institutions, attracting and retain the very best talent. It will be somewhere that our colleagues are incredibly proud to work."
Detailed planning applications will be submitted shortly, with construction expected to begin by the end of the year, pending the appropriate planning consents.