November 24, 2020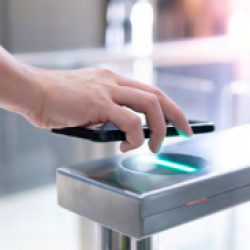 A new paper from the British Council for Offices outlines how technology is being used in offices to combat Covid-19. While offices may be shut in the UK until 2nd December at the earliest, the paper outlines how the sector is adapting and embracing a range of new technology to ensure that offices can comply with hygiene and social distancing measures.
While many of these solutions can be retrofitted, the paper states that those fitting or refurbishing a new building should consider the 'more fundamental adoption of smart technology', using advanced technology to manage energy consumption and to deliver a building that is not only efficient and safe, but also optimised for occupants' wellbeing.
Titled Impact of Technology on the Covid-19 Workplace, the paper states details of a wide range of 'point solutions' being considered by the sector, including:
• Desk and Room booking apps – that are deployed to allow users to book individual desks, meeting rooms and other resources
• Occupancy sensors – temporary sensors that measure the number of people in an office, alerting building management when the number is high
• Workplace apps – matched with occupancy sensors, workplace apps can tell people which areas of the office are at risk of being over-populated and so should be avoided
• Touchless interfaces – apps and voice technology can allow lifts, lights and other features to be used 'touch-free'
• Visitor management – in the longer term, the paper envisions workplaces that allocate space to visitors based on occupancy within the building, and uses unique QR codes to do so
The paper outlines how Covid-19 has catalysed and accelerated the long-term shift to smart technology. It predicts that the pandemic could be the 'death knell for dumb buildings', meaning those that do not have smart technology integrated into their design.
"The adoption of technology can allow us to safely return to the office and enjoy its immense benefits."
Nigel Miller, Managing Director of Cordless, author of the report and member of the BCO Research Committee, said: "Covid-19 has presented a raft of challenges for the workplace, but these can also present opportunities. When open again, offices need to adhere to strict social distancing and hygiene measures and be flexible and responsive to any future needs.
"Technology can greatly aid this, and its adoption can lead to long-term benefits that outlast the pandemic. This paper will help the sector navigate new technology and help those planning to integrate it into their buildings."
Richard Kauntze, Chief Executive of the BCO, said: "Covid-19 has left the country working from home. While this presents a challenge to our sector, it has also shown the true value of the office as a place where networks are formed, learning takes place and creativity flows. The adoption of technology can allow us to safely return to the office and enjoy its immense benefits."
Image:BCO